Peter Andre Backs Cancer Research Roadshow
Peter Andre Backs Cancer Research Roadshow
Thursday, 6 October 2016
TV personality and singer Peter Andre is backing the Cancer Research UK Cancer Awareness Roadshow, which is visiting Southmead Hospital tomorrow (Friday 7th October).
Peter, who lost his brother Andrew to cancer, is urging people in Bristol to visit the Cancer Awareness Roadshow to benefit from free information on how to reduce their risk of cancer.
Visitors can also find out about the importance of early diagnosis and going to the doctor with any health concerns.
The roadshow, staffed by specially trained Cancer Research UK nurses, will be at the Brunel building from 10am and 4pm.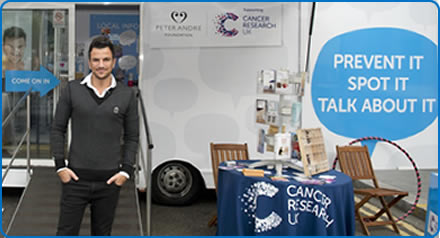 People can have a confidential conversation with a nurse to receive support to help make positive changes to their lifestyle and encourage them to go to their GP with any health concerns.
Around 84 people are diagnosed with the disease every day in the South West, however experts estimate over 4 out of every 10 cases of cancer could be prevented in the UK, largely through healthier lifestyles.
Peter Andre said: "The Cancer Awareness Roadshow has reached such a huge number of people, giving out really important information about living healthily and detecting cancer early."
Lyndy Wesley, Senior Cancer Awareness Nurse for Cancer Research UK said: "The roadshow allows us to get important information out to people as they go about their busy lives - we are literally on the road to beating cancer.
"We are looking forward to talking lots people from local communities across Bristol about the small steps we can all take to reduce the risk of cancer and why it's important to seek help if they notice a persistent change to their body."
To find out more about the Cancer Awareness Roadshow, or how to reduce the risk of cancer and detect it early, visit: www.cancerawarenessroadshow.org.uk