Photographic exhibition celebrates breast cancer survivors at Southmead Hospital
Photographic exhibition celebrates breast cancer survivors at Southmead Hospital
Friday, 23 September 2016
An exhibition has been unveiled inside the Brunel building at Southmead Hospital Bristol featuring men and women who have undergone treatment for breast cancer.
The photos now on display in the exhibition space near the Sanctuary feature some of the people whose stories were compiled for a book to mark 25 years of the dedicated breast care service at the hospital and the support it receives from local charity BUST.
The exhibition features the photographs and words of 10 men and women featured in the charity's commemorative fundraising anniversary book "25 Years, 25 Stories". 
The book was the idea of Liz King, from Alveston, who was diagnosed with breast cancer in 2014, at the age of 45, after she discovered a lump in her right breast.
The former police officer and mother of four found reading the experiences of others helpful when she was diagnosed with cancer and felt it could also prove helpful to other people faced with a diagnosis.
She said: "I'm really pleased to see the photography from the book on the walls here at Southmead Hospital for other people to enjoy."
Another participant, whose photograph is part of the book and exhibition is Carol Newman from Downend.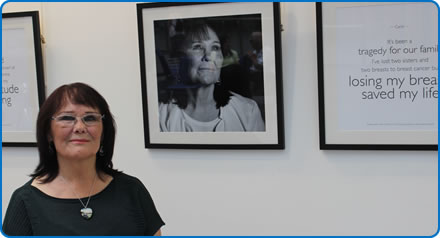 She is one of five sisters, four of whom had breast cancer – and the only one to have survived the disease.
Her cancer was revealed after she signed up to the Tamoxifen trial at Frenchay Hospital 17 years ago.
Carol is now 72 and remains fit and positive despite all she and her family have been through.
Around 370 men a year get breast cancer so, the charity felt it important that the book included the cancer journey from the male point of view.
Andy Nichol was diagnosed with breast cancer aged 59 after he noticed a lump the size of a pea in his chest. He was shocked as he was fit, running most days and cycling, he also thought that breast cancer was a female disease.
Andy underwent a mastectomy and has since raise thousands of pounds for the charity to help others facing the disease.
BUST's anniversary book can be bought by making a donation at the Breast Care Centre, Southmead Hospital or online by emailing 25years25stories@gmail.com. The book shares the first-hand experiences of 25 patients of the Bristol Breast Care.
The exhibition will be on display in the blue atrium inside the Brunel building, near the piano, until January.