Porter celebrates 40 years at North Bristol NHS Trust
Porter celebrates 40 years at North Bristol NHS Trust
Tuesday, 25 July 2017
Porter Robert Weeden, aged 58, is celebrating working 40 years at North Bristol NHS Trust.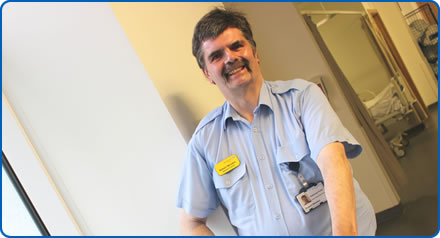 Robert started working at the previous Southmead Hospital building in 1977 on his 18th birthday. Now, 40 years on, Robert works as an imaging porter in the new Brunel building at Southmead Hospital.
Robert has seen a lot of changes over the years, most notably the move to the Brunel building in 2014. Whereas previously in the old building Robert had to take patients outside when transferring them between different areas, Robert can now transfer patients under one roof.
Robert said: "I enjoy the atmosphere and patient contact. I help patients feel at ease and relaxed, it's a rewarding job. I sometimes get recognised by patients who I've transferred, which is nice."
In recognition of Robert's 40 years of service, his colleagues have organised a special celebration.
Imaging Support Manager Deborah Hacker said: "Robert is a delight to have in the department. His working record is exemplary and he demonstrates kindness and understanding to all patients he comes into contact with during his working day.
"I would describe Roberts as a 'true gentleman' and we are all very proud of his achievement on reaching 40 years' service with the Trust."