Refurbished bereavement suite opened in Southmead Hospital's maternity unit
Refurbished bereavement suite opened in Southmead Hospital's maternity unit
Wednesday, 30 August 2017
The bereavement suite at Southmead Hospital's maternity unit has been refurbished thanks to support from Bristol Sands.
The local branch of the Stillbirth and Neonatal Death Charity raised just over £14,000 this year for the refurbishment of the Maple Suite.
The Maple Suite is a dedicated space for women whose babies are lost either before, during or shortly after birth so that they can give birth to their baby and spend time with them.
Every effort has been made to make the rooms as pleasant as possible for couples going through a stillbirth. But working with the Bristol branch of SANDS (the Stillbirth and Neonatal Death Charity) and Southmead Hospital Charity, work is being carried out to refurbish the rooms to improve the experience of women and their partners during labour and the time immediately after birth.
The suite allows both parents to stay for as long as they need, with en-suite facilities and simple fixtures that mean there is no need to leave the room once there; reducing the risk of being confronted with other deliveries and new babies.
Bristol Sands received numerous donations and contributions towards their fundraising, however the main contributions came from sponsorship raised by Rachael Senneck and Jenny Bowcher who ran the London Marathon in April.
They also received a donation of £5,000 raised by the customers and staff at the M&S branch in Broadmead Bristol and funds from the Portishead branch of Waitrose and employee benefits provider, Unum Ltd.
Charlotte Coombs, Chair of Bristol Sands Group, said: "These specialist suites within a maternity unit are vital for recently bereaved parents and provide a private space for them to spend invaluable time with their babies. Although I didn't give birth to my daughter Elizabeth at Southmead, I had access to a similar suite at another hospital. After she was stillborn in March 2012, we were moved to a bereavement suite which allowed us to spend very special time with our daughter within a private, safe place, still part of the delivery suite itself but away from other mums."
"We were able to have family come in and visit and my husband, Reg, was able to stay with me. As I was on the delivery suite, it meant that midwives were still on hand to help with the after effects of giving birth. We spent two days in total with our daughter, creating memories that have to last us a lifetime, so to be in comfortable, well designed space, meant everything."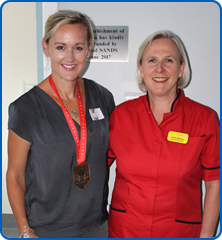 Rachael Senneck, Bristol Sands Committee Member, ran the Virgin London Marathon in April 2017 in memory of her baby boy, Gabriel Star Senneck, who she gave birth to in the Maple Suite at Southmead Hospital in March 2013.
She started running in May 2016, when her friend, Jenny Bowcher asked her to go for a run with her - and in April this year they both took part in the London Marathon in support of the refurbishment of the suite.
"I had little confidence but thought running would help with my grief," Rachael said.
"It soon became therapeutic, so I set the challenge of running a marathon with Jenny.
"We wanted to raise money for Bristol SANDS, as they had supported my family since our devastating loss.
"Gabriel was born on the bereavement suite at Southmead Hospital, a purpose-built delivery suite for parents who are dealing with the loss of their baby.
"Using this suite was so very important to me as it meant I didn't have to leave Gabriel and could be with him for the time I was in the hospital. It was in need of refurbishment, so we set a fundraising goal of £2,500 to help contribute to the much-needed work.
"After training for over 700 miles and completing the marathon we were thrilled to raise over £4,500 pounds in Gabriel's memory.
"I miss him, eternally loved and never forgotten."
Delivery Suite Matron, Cathy Molloy, said: "We do all we can to support families when they experience the death of their baby. It is a very difficult time for a couple and our staff endeavour to provide empathetic and sympathetic care, empowering and enabling the woman and her partner to spend as much time with their baby as they would like.  The environment in achieving this is key.
"A lot of thought went into the Maple Suite when it was set up, but it had become a little tired and needed to be spruced up to improve the experience of couples.
"We really appreciate the efforts of Rachael - who is such an inspirational woman - SANDS, and their other fundraisers in helping us with this refurbishment."