Round up of Olympics news at North Bristol NHS Trust
Round up of Olympics news at North Bristol NHS Trust
Friday, 27 July 2012
In the run up to the London 2012 Olympic Games North Bristol NHS Trust has been at the heart of great news and moving stories of courage connected to the Olympics. As the Games get underway here's a round up of recent Olympics news coverage at the Trust.
In January, three time Olympic gold medalist sailor Ben Ainslie underwent successful back surgery at Frenchay Hospital ahead of his pursuit of a fourth gold at London 2012. He told the Daily Telegraph: "The NHS nurses and everyone involved were fantastic."  
In May Southmead Hospital welcomed the Olympic flame as the torch relay passed the hospital along Southmead Road. Patients, staff and visitors joined the hundreds of spectators to welcome the torch.
As the Olympic torch relay entered Bristol's harbourside, the torch was carried by Frenchay Hospital patient Blaire Hannan who lit a special cauldron on stage during the live broadcast of the event. Blaire suffers from a rare neurological and muscular condition and has had a series of treatments at Frenchay Hospital, including deep brain stimulation. Blaire asked one of the specialist nurses from Frenchay to accompany her during her torch relay leg as recognition of the hospital's support. Blaire hopes to compete in the paralympic sailing in 2016. Read more about Blaire.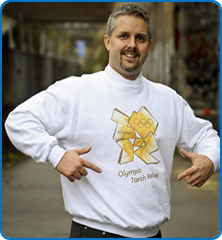 Another Southmead Hospital patient Andy Townsend also carried the Olympic torch through Longwell Green. Andy was born with a congential deformity which meant he had to have his lower limb amputated. Andy has had his artifical limbs made and adapted for him by the Prosthetics service at Southmead Hospital. He represented Great Britain in the 1992 Paralympic volleyball squad.
This week Caitlin Lewis, who, two years ago went through life-saving brain surgery to remove a brain tumour at Frenchay Hospital, visited the hospital's Barbara Russell Children's Unit to show children her Olympic torch. Caitlin carried the torch through Shepton Mallett in May.