Run for the Future 2011 sees 660 runners run, jog and walk for prostate cancer
Run for the Future 2011 sees 660 runners run, jog and walk for prostate cancer
Sunday, 18 September 2011
Hundreds of runners braved wind and rain to Run for the Future and raise money for prostate cancer research.
There were 660 runners who took part in the 5k event on Durdham Downs, Bristol, on Sunday September 18.
And hundreds more people turned out to support the runners or walkers who were raising money for prostate cancer research or running in memory of loved ones.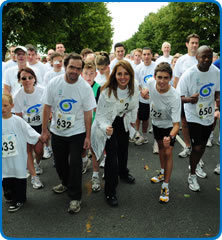 Many of the participants were also men who have been diagnosed with prostate cancer.
Run for the Future raises money for research into tests and treatments for prostate cancer at the Bristol Urological Institute at Southmead Hospital.
This year was the sixth Run for the Future and since it began more than £200,000 has been raised for the BUI's Prostate Cancer Appeal.
Run for the Future is organised by Rotary in Bristol and 60 free PSA tests were carried out by the Spire The Glen Hospital.
Martina Peattie, from Rotary in Bristol, said: "Despite the rain and blustery weather we have had a fantastic turnout from runners and their supporters today.
"We are really pleased that 660 people took part today when so many other charity runs and events in the city have seen their numbers drop this year.
"More importantly Run for the Future has raised awareness among men about prostate cancer and educating them about the signs.
"It has been wonderful to hear the inspiring stories of why people are taking part in Run for the Future, because they themselves have had prostate cancer or in memory or support of a loved one.
"Without doubt all of today's participants have helped to fund vital research at the BUI, right here in Bristol."
Two-time Olympian Nick Rose, aged 59, from Bristol, came in first with Joanne Burke, from Cheddar,  the first woman to cross the finish line.
They were both presented with Bristol Blue Glass trophies by the Lord Mayor Councillor Geoffrey Gollop.
Facts about prostate cancer:
Every year 35,000 men are diagnosed with prostate cancer in the UK and over 10,000 men die from the disease.
Symptoms can include problems passing urine, lower back pain, pain in the hips and pelvis and occasionally blood in the urine, although this is rare. It is important to remember that not everyone with prostate cancer gets symptoms.
The Prostate Specific Antigen (PSA) blood test can give an early indication of prostate cancer before symptoms occur. Only eight per cent of men request this test from their GP.
Anyone with any concerns about their prostate, particularly men above 50 or those above 45 with a family history of prostate or breast cancer, should see their GP to discuss a free PSA test.
Black, and especially African Caribbean, men are three times more likely to get prostate cancer than white men.