Scheme to help BME staff reach their potential relaunched
Scheme to help BME staff reach their potential relaunched
Tuesday, 7 November 2017
A scheme to support BME staff in the development of their careers has been relaunched at North Bristol NHS Trust.
The scheme was originally launched in 2014 to help staff within the Trust reach their potential.
Mentors can provide support and advice to BME staff to help them establish their development needs and help them apply for new roles within the organisation.
Senior managers within the Trust have been contacted and encouraged to become mentors to support other BME staff within the organisation.
North Bristol NHS Trust Equality and Diversity Manager, Lesley Mansell, said: "The Race Disparity Audit has now been published by the Government and one of the things it highlighted was that more mentoring was needed.  I was proud that this was something we are already doing at NBT and thought it was great that this is an area where we are leading the way.
"We want to help motivate and support BME staff to achieve their ambitions. We know that people within our organisation have got the skills and we need to nurture that."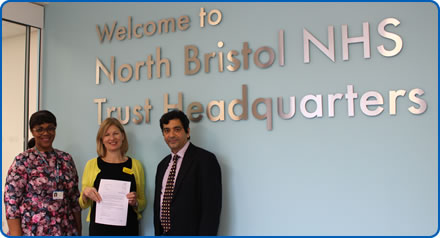 Audrey Howell has worked at the Trust for ten years, having originally joined as an IT desktop Support engineer.
It was her mentor who guided Audrey through the application process and gave feedback when she applied to become an IT Trainer.
With new found confidence Audrey later applied to be a training and development manager, a role she was in for 18 months until taking her next step in her career.  Audrey then applied for a role where she was able to draw on her IT/Training and Management skills. She is now the PACs Manager for Avon Breast Screening Unit and feels that the mentorship programme helped give her the confidence to step up into a more senior role.
"Mentoring gave me the support to move on and develop myself," she said.
"I think it was also the belief in myself. I always thought I would love to do a management role and my mentor really helped give me that self-belief."
She added: "There are opportunities, and would encourage others to draw on the skills and vast knowledge of others within the Trust."
Dr Sanjay Gandhi, Professor of Radiology, has been mentoring trainees and junior colleagues for the last 15 years within North Bristol NHS Trust.                      
He said "I believe people who join the NHS are already highly motivated but they need guidance and direction and that's where mentors can bring the best out of these people and their ability. That's why I went on a mentoring course and became a trained mentor and coach at NBT."
He added: "Personally I think everyone should have a mentor and try to mentor other people because then you see things from both perspectives. My former trainees are in the key teaching institutions around the world including the UK, Australia and North America and it is very gratifying to know that your mentees are doing well."