See a surgical robot that can peel a grape in action at Blue September men's cancer event
See a surgical robot that can peel a grape in action at Blue September men's cancer event
Friday, 23 September 2011
The south west's only prostate surgical robot is on show at a special event to raise awareness of men's cancers.
On Wednesday September 28, between 10am and 4pm, the public can see a robot in action, and perhaps even operate it themselves, at a special Blue September event.
Southmead Hospital was one of the first hospitals in the UK to have the Da Vinci robot in 2009.
A Da Vinci robot, like the one used in surgery, will be on show in the Learning and Research Centre at Southmead Hospital.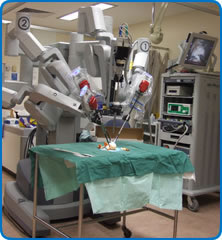 Our specialist team of urologists will also be on hand to discuss how it works as well as the latest developments in treating men's cancers.
Blue September is a national event to promote awareness of men's cancers.
Representatives from Intuitive who make the Da Vinci robot will also be there.
The Da Vinci robot is used to take out the prostate in men who have been diagnosed with prostate cancer.
The urology team at Southmead has carried out more than 450 robotic radical prostatectomy and 30 bladder removals since 2009.
The £1.5 million device is so precise it can peel the skin from a grape.
The surgeons operate surgical instruments on the robotic arms which means they make smaller, more precise incisions and the procedure is less intrusive.
It has meant that men can recover quicker than ever before and many patients are now discharged home within 24 hours.
David Gillatt, lead clinician for urology at Southmead Hospital, said: "This is a unique opportunity for the public, patients, staff and GPs to see for the first time how the robot works.
"We hope that by bringing a robot similar to our own out of the operating theatre and into a public setting we can raise awareness of the advances that have been made in treating prostate cancer.
"The robot has really revolutionised the way that we treat prostate cancer and we hope to extend its use to other cancers and procedures."
The Da Vinci robot will be in the Learning and Research Centre, Southmead Hospital, from 10am to 4pm on Wednesday September 28 2011.
For more information about the event 'Like' us on Facebook.