Southmead Hospital's festive workforce helping patients this Christmas
Southmead Hospital's festive workforce helping patients this Christmas
Friday, 22 December 2017
For most people Christmas Day will be spent enjoying the festivities at home with family and friends. But for a number of staff at Southmead Hospital, much of Christmas day and night will be spent providing care and support to those who need it.
This involves staff from across North Bristol NHS Trust, from the cleaners on the wards, to the porters who will transport patients around the hospital and the caterers cooking Christmas dinner. There are the nurses and doctors, healthcare assistants, radiographers and therapists providing clinical care and the reception staff who will also be at Southmead Hospital ensuring it continues to provide outstanding healthcare to all of its patients.
Rose Martineau-Brown is an Associate Site Nurse Practitioner who keeps the hospital running at night.
She said: "Christmas isn't really different to any normal working day, apart from more chocolates! I try to help patients to enjoy the day, despite the fact that they are in hospital, especially those without visitors."
Chris Lindop, Derek Farley and Lesley Roper are volunteer Move Makers at Southmead Hospital. They will be giving up time at home to help out in the hospital on Christmas day.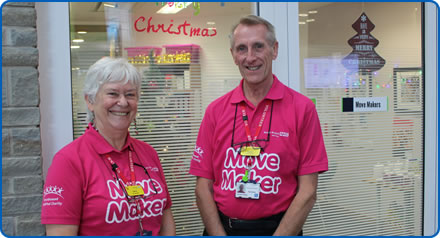 Chris said: "If I can make someone's passage through the hospital easier or more cheerful, then that's a Christmas present worth giving."
Derek said: "We calm people who come through the doors, help take some of the anxiety away and, in their time of need, help them to their appointment."
Lesley added: "I previously worked for North Bristol NHS Trust and am used to working Christmas days, but this will be my first Christmas volunteering. I will be helping visitors who are looking for their relatives so that they can have a peaceful visit. It's nice to do something for someone else at Christmas."
Alongside the Move Makers, there will be a number of volunteers helping out on the wards and around the hospital on Christmas day.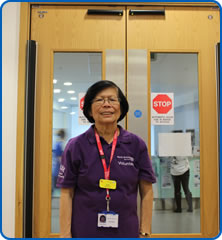 Joan Ellis will be making tea and befriending patients.
She said: "I've volunteered on many Christmas days. I find it quite satisfying to give something to those who are deprived of Christmas. In the evening, I will open presents, relax and enjoy the Christmas spirit."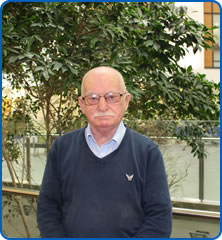 Keith Wilcox volunteers every day for North Bristol NHS Trust.
He said: "I've volunteered for the last four years on Christmas day. I'm always around and happy to help out when I'm required."
Bonnie Blunden has been volunteering for 22 years.
She said: "I love the patients. They are all around my age and I can talk to them about how Christmas used to be. I will be volunteering on Christmas morning and will try to jolly the patients up and will be giving out mince pies."
Senior Staff Nurse Helen Coxon has worked 20 Christmases at Southmead Hospital.
She said: "Staff have donated presents for patients to open on Christmas day. We try to make it a happy day, and spread a bit of joy around."
Meanwhile, for Helen's ward colleague Sandra Atencia Martinez, who is a Behavioural Healthcare Support Worker, this will be her first Christmas working at Southmead Hospital.
She said: "It's a special day and I'd like to do something nice, although I won't be singing carols!"
Porter Andrew Twilley will be transporting patients around the hospital on Christmas day.
He said: "Christmas is just another normal day. However, we can never predict what cases will be coming into the Emergency Department. I try to bring a bit of Christmas spirit to the patients. My job is to look after patients and take them to where they need to go. They come first."
Radiographers Holly Scott and Bridget Harris will be working in the Emergency Department and theatres on Christmas day. For the aptly named Holly, this will be her first ever Christmas shift at Southmead Hospital.
Holly said: "This will be my first Christmas shift at Southmead Hospital. We're doing a Secret Santa, and I'm on an early shift so I can enjoy the evening."
Bridget added: "People have a bit more of a festive spirit, and we bring in festive treats. I won't be cooking this year so it will be ready when I get home!"
Midwife Naomi Mallinson will be working on the Central Delivery Suite, providing care for women in labour
and after birth.
She said: "My job as a midwife is a celebration of birth every day, Christmas Day is no exception!  We're a cheery bunch anyway; the festive period adds to it all. This year working the night shift, I also get to celebrate my birthday with my colleagues too!"
Clinical Site Manager Sarah Wheatley will be working a 12 and a half hour shift and will be talking to teams across the hospital.
She said: "On Christmas day we have to maintain a professional approach. However, we will have a bit of fun, such as decorating the office. On Christmas morning, we have a friendly competition with St Michael's Hospital to see who delivered the first baby."
Aptly named Domestic Assistant Noel Francis will be working over Christmas and Boxing Day.
He said: "Christmas is just a normal day shift for me. Sometimes we have entertainment on the ward. I talk to patients, have a laugh with them and reassure them. Then I'm back in on Boxing Day, continuing to keep the ward going."
Consultant Orthopaedic Surgeon Damian Clark will be caring for patients on Christmas day, and acknowledges that Christmas can be an emotional time for some families.
He said: "Christmas is a special day, but it can be a difficult time for families who have loved ones in hospital. We will be doing our best to help patients get better and home as soon as they are able to."
Senior Chef Brian Prior will be preparing food for patients over the Christmas period.
He said: "Christmas day is just another day in catering. We start work an hour early – around 6am – to make sure all the food is ready to go in the ovens. This will be my last Christmas at Southmead Hospital, as I will be retiring and spending time with my daughter."
On Christmas day, the Salvation Army will be playing at the hospital, and patients and staff will be opening presents and treats provided by Southmead Hospital Charity.