Southmead Hospital AMU marking Acute Medical Awareness Day
Southmead Hospital AMU marking Acute Medical Awareness Day
Thursday, 19 November 2015
Staff at Southmead Hospital will be raising awareness of Acute Medicine in the Brunel building today (Thursday, November 19).
Nurses and doctors from North Bristol NHS Trust's Acute Medical Unit (AMU) will be talking about their roles as part of Acute Medicine Awareness Day.
The Acute Medicine team deal with patients when they are acutely unwell and will be involved in caring for them while investigations are carried out and in the initial stages of their treatment.
Some patients come into the unit after being referred by their GPs while others will spend time in AMU after initially coming into the Emergency Department.
Patients tend to spend a limited period of time in the unit, moving on to an appropriate ward if they need to stay in hospital or being discharged home.
Members of the AMU will be in the atrium of the Brunel building today explaining what their roles involve as part of Acute Medicine Awareness Day.
Here they explain more about working in AMU:
Alexandra Smith has worked in the AMU at Southmead Hospital since May, having worked on an acute medical unit at a different hospital previously - her first role after qualifying as a nurse.
"AMU is the only job I have done, it is all I have known," she said.
"The people that come to us have either come through the Emergency Department and have ongoing issues that need to be addressed, such as investigations, or we look after people who have come in from home.
"When people come in we do things like observations and assessments, making sure they are stable and then we work with the medical team to address the main issues they have come in with."
When a patient arrives in AMU they will initially be triaged by a nurse.
"Some people come in with a chest infection that hasn't gone away, and some have had a heart attack – it's really that varied," Alexandra said.
"Sometimes this is the worst thing that has ever happened to our patients and can be quite stressful, so we have to reassure them and give them the confidence that we are there to sort their problems for them.
 "We see so many different people coming in with so many different things. It's all ages, all walks of life but we get so many different experiences and so many different skills.
Assistant Practitioner Andy Hall has worked for the Trust for 15 years, having started as a Healthcare Assistant (HCA) at Frenchay Hospital. He has worked on AMU for 12 years and qualified as an Assistant Practitioner in 2009.
"It has changed a lot since I first started working on Medical Admissions to where we are now," he said.
Andy tends to do most of his work in the triage area of the AMU, receiving the patients who come through from the Emergency Department, or have been referred by their GP.
"We are involved in carrying out an initial assessment, working out what people need doing straight away, what treatment they need," Andy said.
"They will get seen by a doctor within 15 minutes, who will then say what they need.
"We will take blood, do ECGs, cannulating patients – it's carrying out that initial assessment. When people have been through triage they go to the assessment beds where they stay a bit longer."
Andy said the nature of AMU means that a range of people pass through the unit.
Ward Manager George Duffield has been with North Bristol NHS Trust for his whole career, having been supported by the organisation to carry out his training.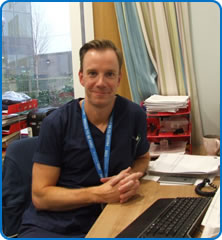 He started working in admissions on the old C Ward at Southmead Hospital eight years ago. He transferred to Frenchay four years ago, before returning to Southmead when the Brunel building opened last May.
"I have never really wanted to work in any other part of the hospital," George said.
"I enjoy the pace. It's a challenging presentation of patients and you just have to roll with it."
George's role, alongside his colleagues in the ward's senior team, involves overseeing the running of the unit. He ensures that there are safe staffing levels with an appropriate skill mix, while also supporting the individual members of the team.
"We have to make sure we see all the people referred to us as safely as possible and make sure they are cared for in as safe an environment as possible," he said.
"We conduct investigations and act upon them, then refer patients to the appropriate specialties, which means we have a lot of input from other specialties - cardiology, respiratory and gastro come down every day to see patients that are with us."
Staff on AMU are supported by practice development nurses who support the newly-qualified staff and spend time helping members of the team who need support or additional learning.
 "We have really good educational opportunities here." he said.
"We have a hands-on approach to the education of staff.
"It is a great place to learn as we tend to see and learn more on AMU in a year than other nurses will.There are five different areas - triage, assessment bays, short stay beds, enhanced care and ambulatory care - which our staff rotate through and gain experience.
Nerys Conway and Sarah Kyle are both registrars working in AMU carrying out primary assessments and instigating treatment, with the aim of seeing all patients within half an hour of arrival in the unit.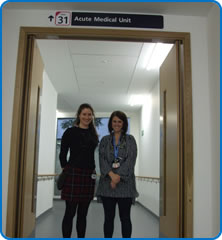 Sarah said: "I think we see everything here and a real mix of patients. It is not just older, frail patients but also young people.
Nerys added: "We get a variety of cases, social backgrounds and ages."
Sarah said that specialists from other parts of the hospital support their work, visiting patients on the unit.
"Every day we get new challenges, but you don't feel alone in dealing with these challenges because there is lots of support around," she said.
Nurse Jordan Hume has worked at the Trust for two years.
"There is probably no average day, every day is quite different," he said.
"Things are quite variable.
"Patients are generally quite unwell and the number of patients we are dealing with is also quite high.
"We make all the initial assessments and help start their care plans."
Carmen Linares, has been on the AMU for three months and said that the role can be very busy.
"Some of our patients are very unwell so we have to work quickly, but the other nurses and people here are very good and very helpful."
Jordan added: "I have worked on other busy wards, but I think the pace is that much faster on AMU.
"We have to provide the best care possible, but we are also we are supporting the patient flow through A&E, getting a care plan sorted and then finding the ward that is best for he patient."
Acute Oncology Nurse Sarah Colsey, liaises with the Acute Medicine Team as part of her role overseeing the care of patients with cancer.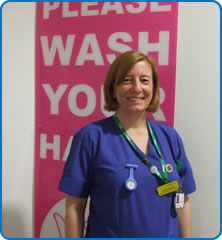 "We come down every day and check if there are any referrals. We work closely with AMU and the Emergency Department," she said.
"We are here to see anyone who has come in unwell because of their cancer or cancer treatment or to support people with a new diagnosis - where patients have come here or to the Emergency Department unwell and that is when they find out."
Sarah's role can include making sure that teams involved in the care of specific cancers are aware of patients who have come into hospital and giving information to the medical staff who are caring for patients with cancer.
"We feel very much a part of AMU because we do a lot of our work here," Sarah said.