Southmead Hospital apprentices honoured at awards ceremony
Southmead Hospital apprentices honoured at awards ceremony
Wednesday, 7 March 2018
Some of our apprentices at Southmead Hospital were among the stars celebrated at an awards ceremony this week.
Healthcare support workers and a medical secretary from North Bristol NHS Trust (NBT) were among the shortlisted nominees at the Health Education England South West Star Awards yesterday (March 6).
The awards coincide with National Apprenticeship Week, which celebrates the success of apprentices and highlights how apprenticeships can be the pathway to a great career.
Healthcare Support Workers Mollie Lomax and Georgie Northcott work on Elgar One at Southmead Hospital and were finalists in the Intermediate Apprenticeship category at the awards.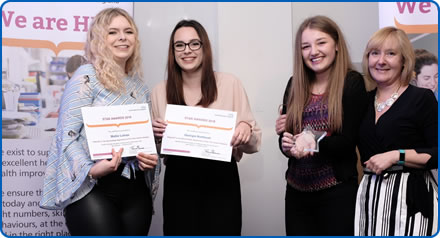 Both are still relatively new to their roles but have already been recognised within NBT for their "efforts in going the extra mile to deliver patient care and spreading kindness throughout the ward".
They have both worked with our arts team to support patients in meaningful activities, including transforming the ward into a Winter Wonderland at Christmas to bring more joy into the care setting.
Mollie has been described as "very enthusiastic and passionate with her studies and she has demonstrated a hunger to learn the skills required for the job."
Georgie was credited for "displaying an amazing level of maturity towards her role, both in the classroom and in work". 
Both Mollie and Georgie intend to continue through the apprenticeship route to become nurses in the future.
Liza Paredes is a senior secretary in the Neuro Musculoskeletal division and was a finalist in the Advanced Apprentice category.
Liza came to the UK from Peru and has progressed with us through our education pathways.
She first started out on our traineeship programme 'to further herself' while also looking after her young son. She impressed so much on her traineeship placement that she was quickly taken on board as a band 2 audio typist role in respiratory on an advanced apprenticeship in business administration.
Since then she has gone on to take on secondments and other roles and is now working as a senior secretary at band 4 in NMSK. In her current role, she is now coordinating for a consultant across 4 different sites. She has responsibility for organising appointments and has suggested new, more streamlined ways of working to reduce the waiting list for appointments.
Liza's assessor said: "Her drive and determination has impressed us and the commitment she has shown to her work, colleagues and patients is exemplary. Her work is always first rate and she is always enthusiastic and willing to learn new skills."