Southmead Hospital arts programme highly commended at awards ceremony
Southmead Hospital arts programme highly commended at awards ceremony
Friday, 19 June 2015
North Bristol NHS Trust's public arts programme has been highly commended in the Arts & Health South West Prize 2015.
Arts & Health South West considered more than 50 projects for the 2015 awards and the public arts programme for the new Brunel building was one of eight projects highlighted by the charity which promotes the use of the arts to encourage health and wellbeing.
North Bristol NHS Trust was highly commended in the awards, which were announced at Bristol Museum and Art Gallery, for the use of art in the Brunel building, arts projects staff and patients were involved in ahead of the opening, and the three-day Fresh Arts Festival which was held to encourage local people to visit their new hospital.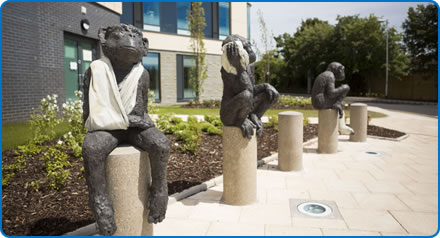 Art was incorporated into the Brunel building at Southmead Hospital Bristol to enhance the experience of patients and visitors. Works were commissioned to improve the environment inside and outside of the new building while also providing therapeutic areas for patients.
Among the works are sculptures of animals with ailments. A trio of bronze monkeys set up home outside the Emergency Department last year and the remainder of the collection will go on display when the second phase of redevelopment works is completed at Southmead next year.
A medical day garden has also been set up outside the building to provide a therapeutic outdoor space for patients and there is colourful artwork in courtyard gardens that patient bedrooms overlook.
Almost six months after the opening of the Brunel building the Fresh Arts Festival was held to celebrate the use of art in the hospital and to give local people the chance to explore the site. A colourful giant jumper comprising squares knitted by patients, volunteers and staff hung outside the Brunel building during the event and musicians and local choirs performed for visitors. Poets, writers and printers also worked with patients and visitors as part of the event.
The festival in October was also a chance to showcase some of the work that hospital staff became involved with ahead of the move to the new hospital. Actors brought staff stories to life in a series of performances in the hospital, which were supported by photographs of the move.
Fresh Arts Programme Manager, Ruth Sidgwick, said: "Looking at the extraordinarily high quality of other short-listed projects, I'm thrilled we got so far in the awards.
"What's especially encouraging about this prize is the quality and range of brilliant arts and healthcare projects that are being recognised because of the huge difference they make to patients' lives – and North Bristol Trust is helping lead the way. 
"I've been so inspired by others' work and hope to bring that to bear at Southmead and Cossham Hospitals."
Director of Nursing and Quality, Sue Jones, said: "The arts programme at North Bristol NHS Trust is hugely beneficial for our patients and staff.
"The Brunel building has provided us with an outstanding healing environment for our patients; the integration of art combined with music, and activities such as knitting groups and painting on the wards has been a huge part of that. I am delighted that this has been recognised with us being Highly Commended in the Arts & Health South West Prize."