Southmead Hospital Consultant chosen for national leadership initiative
Southmead Hospital Consultant chosen for national leadership initiative
Friday, 13 April 2018
Southmead Hospital consultant Seema Srivastava is one of 18 senior health professionals in the UK to be selected for GenerationQ, a pioneering leadership programme from independent health care charity the Health Foundation.
The fellowship has a track record of developing senior leaders who understand how complex health systems work and who have the skills to transform health care quality and bring about sustainable, system-wide change.
The GenerationQ programme develops Fellows to drive forward and influence improvements across health services and organisations.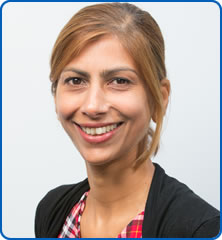 Seema said: "I am passionate about improving the quality of care we provide for patients across North Bristol NHS Trust and am thrilled to have been selected to be part of the GenerationQ fellowship programme.
"Alongside my Quality Improvement colleagues at North Bristol and regionally we have already made great strides in improving the care and experience of our patients and I am looking forward to the opportunities that being part of this scheme will bring in terms of enhancing the work we are already doing for our patients and population."
Seema is Associate Medical Director for Safe Care at North Bristol NHS Trust and was awarded an MBE in the Queen's New Year Honours. She has worked at the Trust since 2008 and is a Consultant in Medicine for Older People and also the lead Consultant for safety and quality improvement. She led the development of a combined 'National Early Warning Score  (NEWS) and Pain' chart across the Trust, which helps the early identification of patients at risk of deterioration, thereby ensuring early intervention.
Dr Jennifer Dixon, Chief Executive of the Health Foundation, said 'We have 18 gifted people participating in the fellowship and are very excited to see what they will achieve. GenerationQ equips those wanting to improve frontline care with a wide range of tools for leading improvement. These skills are needed now more than ever because of the challenge on health care to transform at pace over the next few years.'
GenerationQ provides an innovative learning experience structured around four leadership domains. The challenging programme includes residential leadership forums, executive coaching, action learning in peer groups and the opportunity to engage with systems beyond health.
Fellows undertake an 18-month part time programme to complete a postgraduate certificate in leadership (Quality Improvement) with the option to complete an MSc. Fellows will develop personal and relational skills and strategies, equipping them to confront the multitude of challenges facing health and health care today. They will also lead a significant improvement project in their organisation or system.
The fellowship is delivered in partnership with Ashridge Executive Education.
For further information about GenerationQ visit the Health Foundation website www.health.org.uk/generationq