Southmead Hospital Consultant visits Buckingham Palace to receive her MBE
Southmead Hospital Consultant visits Buckingham Palace to receive her MBE
Wednesday, 27 June 2018
Southmead  Hospital Consultant Seema Srivastava visited Buckingham Palace yesterday (Tuesday, June 26) to receive her MBE.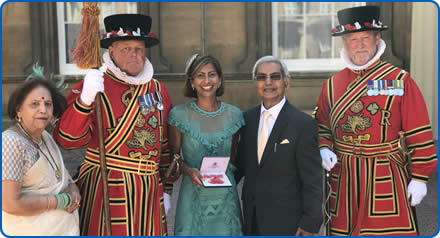 The Associate Medical Director for Safe Care was made an MBE in the Queen's New Years Honours for her services to the NHS in Patient Safety and the investiture was carried out by The Prince of Wales.
Seema was joined by her proud parents, including her retired GP father for the ceremony.
She used the opportunity to share a special message about the reasons why she is proud of the NHS as part of the #WhyILoveTheNHS campaign we have been running in the lead up to the 70th anniversary.
Seema said: "It was an incredible honour to receive my insignia from Prince Charles yesterday.
"I explained to him how I had been working with great teams at Southmead and the West of England to improve the quality and safety of the care we deliver for our patients.
"I am so proud to be receiving this award which represents all of our hard work as #oneNBT."
Seema joined North Bristol NHS Trust in 2008 and is Consultant in Medicine for Older People and the lead Consultant for safety and quality improvement.
She led the development of a combined 'National Early Warning Score  (NEWS) and Pain' chart across the Trust, which helps the early identification of patients at risk of deterioration, thereby ensuring early intervention. Seema also developed a novel NEWS chart for Neurosciences, which helps detect deteriorating neurological health.
Much of Seema's work focuses on training staff to provide safer care to frail patients with complex care needs who are at increased risk of falls. She works with the West of England Academic Health Sciences Network Patient Safety Collaborative and is a Faculty Member of the Royal College of Physicians' QI Hub which focuses on developing quality improvement capability across healthcare systems.
A mum and keen runner herself, Seema also coaches and encourages mums in her community to get back into exercise and champions women's education as part of the Trust's ambassador scheme – visiting schools and colleges to inspire young women to consider a career in the NHS.