Southmead Hospital HIV Service supports World AIDS Day
Southmead Hospital HIV Service supports World AIDS Day
Tuesday, 1 December 2015
North Bristol NHS Trust's HIV/AIDS Service is supporting World AIDS day today (Tuesday, December 1) by raising awareness of its work.
Southmead Hospital is home to the largest HIV service in the South West and takes referrals from other services in the South West for patients with more complex needs.
The service is made up of consultants, specialist nurses, research nurses, specialist pharmacists, a specialist dietitian, clinical psychologist and healthcare assistants, who are all involved in helping patients to manage their illness.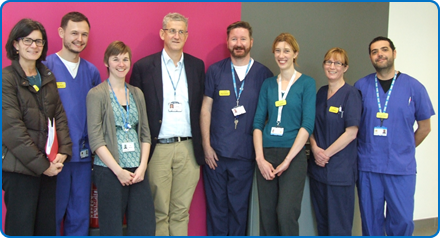 More than 1,000 people regularly attend the clinics, with about 100 new referrals made to the service each year.
The treatment of HIV has evolved considerably over the last 30 years and has now become an illness that is managed like many other long-term health conditions.
"It is now a treatable illness, although is not curable," said Kieran Sharkey, HIV Nurse Specialist.
"Quite often people think they are going to have to give up work or that they will not be able to have children, relationships and that life will have to change, but really very little has to change. We talk about HIV as a long-term chronic illness, like diabetes, and try to normalise it."
He added: "A lot of the challenges now are to do with ageing and the complications that patients can have with dealing with a chronic illness."
Patients are referred to the HIV service at Southmead Hospital after being tested at either a sexual health clinic or their GP, with the aim of them being seen within 48 hours of their referral.
"It is a devastating diagnosis for a lot of people," HIV Specialist Nurse Liz Williams said.
"Some people have friends who are HIV positive, while others feel like it is the end of the world.
"A lot of our job is about trying to help people through. Although they feel devastated in the beginning we say to them that it won't last . Most people accept it and carry on and have a normal life. A lot of our patients will say that they only think about HIV when they come to an appointment."
The Nurse Specialists tend to see patients for their first two appointments after diagnosis and can prescribe medication.
As well as supporting patients with their treatments and putting them in touch with services such as the Terence Higgins Trust and the Brigstowe Project, the nurses can also help people with contact tracking - looking at whether there are people who might be at risk of transmission.
The Southmead Hospital service also includes nurse-led post exposure prophylaxis for people who have been at risk of exposure to HIV and may have come through the Emergency Departments at Southmead and the Bristol Royal Infirmary or Bristol Sexual Health Centre. This involves 28 days of treatment followed by an HIV antibody test.
Part of the role of the HIV Specialist Nurse Practitioners also includes supporting pregnant women with HIV.
Liz was recently shortlisted in North Bristol NHS Trust's Exceptional Healthcare Awards for the efforts she goes to to ensure that women always have someone with them during appointments and labour.
"The risk of a baby being HIV positive is less than 1% if someone is on treatment.," she said. 
"Now normal delivery is perfectly acceptable unless there is an obstetric reason for a section – when I started it was always a Caesarean section.
"And we are now seeing a lot of women on their second pregnancy."
Significant advances have been made in all areas of the treatment and management of HIV due to research that has been carried out and the team s involved in studies to support further advances.  
Kieran said: "Everything we do is research based and we have research nurses within the team looking at new and existing drugs.
"It's a challenge because it is always a learning curve."
Research the team at Southmead have been involved with include studies looking at the partners of people who are HIV positive and those focusing on the optimum time to start treatment - which have already led to changes in guidance abut when to start medicine. 
The team hope that World AIDS Day is an opportunity to talk about HIV and improve people's understanding of it. 
"The more known  about and talked about it is the higher the levels of testing will be," Liz said.
The Terence Higgins Trust is in the atrium of Southmead Hospital's Brunel building today (December 1) supported by members of the Southmead Hospital team to raise awareness of HIV/AIDS, with money raised going to the North Bristol NHS Trust HIV Service through Southmead Hospital Charity.