Southmead Hospital Milk Bank celebrates five years of helping vulnerable babies
Southmead Hospital Milk Bank celebrates five years of helping vulnerable babies
Wednesday, 7 December 2016
The Milk Bank at Southmead Hospital has celebrated its fifth anniversary.
Since its launch in 2011 more than 700 litres of breast milk have been donated by 312 donors.
The donor milk bank was set up to provide safe, screened donor breast milk for babies in Neonatal Intensive Care Units (NICUs) around the South West and is the only one in the region.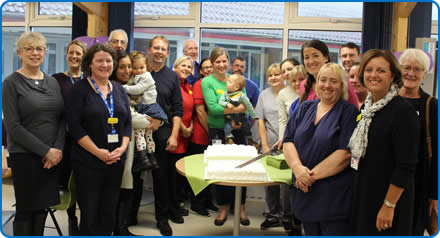 For premature and vulnerable babies donor breast milk is the next best nutrition if their mother's milk is unavailable.
The Milk Bank was opened by former Southmead Hospital Neonatologist Dr Alison Leaf in November 2011. She pioneered the campaign to fundraise for the milk bank, which started in 2008, and returned to help celebrate the fifth anniversary of its opening.
The event was a double celebration as NHS England has now announced that it is funding the bank.
The Milk Bank is supported by volunteers from Blood Bikes NICU Support and Freewheelers, who pick up donations from donor mums and transport them to the hospital, where it is pasteurised, frozen and stored.
NICU Support expanded its service four years ago from picking up donations to also include giving new mums lifts to the NICU.
One mum who has donated milk to the bank is Emily Spillman, who got involved when her one-year-old son was in the Southmead Hospital NICU, having been born at 26 weeks." I had a huge oversupply because of regular expressing and Austin only requiring small volumes of milk, so I was fortunate enough to be able to donate my milk," Emily said.
"It was really nice because it kept me going with my expressing, otherwise it would have been wasted."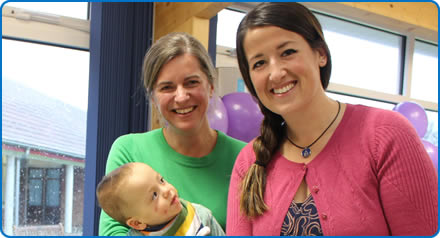 Emily, who undertook a 5k a Day challenge for Southmead Hospital Charity, added: "I think a lot of parents like to give something back. I'm a nurse myself so I appreciate when people in a similar role to you are so kind to you. They just go above and beyond what's expected of them. Austin is a testament their amazing work."
North Bristol NHS Trust Consultant Neonatologist, Claire Rose, said: "I'm really delighted to be celebrating five years of the milk bank.
"We know how important it is for vulnerable babies in NICU to have access to breast milk and it is great that we have been able to make this milk bank such a success for babies in our unit and those across the region.
"The team have been doing a really great job of raising the profile of the milk bank in the south west region.
"We couldn't do this without our friends at Free Wheelers and Blood Bikes who transport our milk across the South West free of cost."
Mike Burns of Blood Bikes NICU Support, added: "There is nothing better than giving a baby the very best start in life."
For more information about donating milk visit.