Southmead Hospital supports Lord Mayor's organ donation appeal
Southmead Hospital supports Lord Mayor's organ donation appeal
Wednesday, 30 October 2013
Southmead Hospital supports the Lord Mayor's campaign to encourage more people from black, Asian and minortiy ethnic communities to sign up as organ and blood donors.
Lord Mayor Faruk Choudhury met with kidney recipients Khalil Abdi and Wanleng Lin, who both had a kidney transplant at Southmead Hospital, along with Transplant Surgeon Anusha Edwards, and North Bristol NHS Trust chief executive Andrea Young.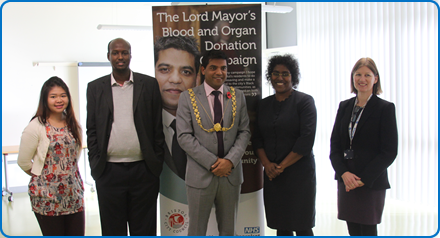 Cllr Faruk Choudhury, is encouraging more local people to sign up as blood and organ donors. In particular, he's asking people from black, Asian and minority ethnic communities to donate as these groups are currently under-represented.
Currently only 4% of the eligible population across England and North Wales regularly donate blood. And of these, only 4% are from a black, Asian or minority ethnic background.
Hospitals in England and North Wales need around 7,000 units of blood every day to treat patients with a range of health issues from cancer, thalassaemia and sickle cell anaemia, to those involved in accidents or suffering blood loss in childbirth.
Find out more about organ donation.