Southmead team marks Acute Medicine Awareness Week
Southmead team marks Acute Medicine Awareness Week
Wednesday, 16 July 2014
Staff at the Acute Assessment Unit at Southmead Hospital Bristol are marking Acute Medicine Awareness Week.
The team, which is based in the new Brunel building, is holding a series of events this week to educate people about its work.
The Acute Assessment team want to develop the positive profile of Acute Medicine to those outside of the specialty. They believe this week will allow them to build working relationships between the Acute Assessment Unit (AAU) and other stakeholders.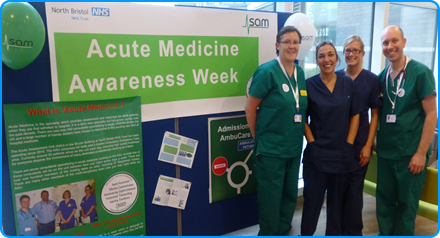 Acute medicine involves the assessment and treatment of patients who have either been referred by their GP or have come into hospital through the emergency department.
The AAU opened in the Brunel building in May and the team, made up of doctors, nurses, pharmacists and therapists see about 50 new patients a day.
The AAU team assess, diagnose and treat patients, with 40 per cent being discharged home straight from the unit. Most patients will spend no more than 24 hours in the unit before leaving hospital or being admitted to a ward.
Throughout Acute Medicine Week, which the Society for Acute Medicine is running until Sunday, the team at Southmead Hospital Bristol will be raising awareness among the public, GPs and other colleagues within the trust.
Doctor on the unit Nigel Lane, said: "We wanted to educate the public about what happens and what to expect when they come into hospital for assessment. We aim to assess patients quickly and thoroughly once they are on the AAU or in our Ambulatory Care Area and discharge them back out of the hospital appropriately.Many patients no longer have to stay in for a number of weeks.
"We also wanted to let GPs and our inpatient teams know what goes on down here on AAU and in our Ambulatory Care Area. This event highlights how the AAU team manage and discharge patients so they don't have to stay in hospital.
"For us, this week is a chance to educate, invigorate and communicate."  
An information stand has been set up in the AAU to help patients and visitors understand the team's role. Local GPs were invited to meet the team, and teaching sessions are also being held as part of Acute Medicine Awareness Week.