Staff awards for commitment to patient care
Staff awards for commitment to patient care
Friday, 25 August 2017
Outstanding staff and a volunteer at Southmead Hospital's Elgar House have received recognition for their contribution to providing exceptional healthcare.
Each month a different member of staff is being honoured for their efforts in providing quality care on the ward and this culminated in a double-celebration for staff receiving their awards during the ward open day yesterday.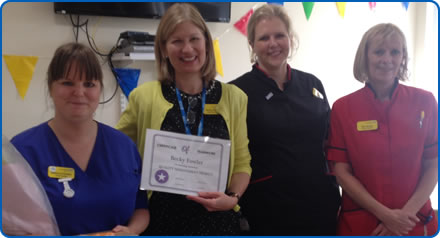 Most of the patients in Elgar are medically fit to leave hospital but are waiting for arrangements to be made around their ongoing care. Staff are supporting thisgroup of patients to be more active as they prepare to leave hospital helping them to retain their independence and support their mobility.
Patients are being supported to get out of bed, get dressed and go to the dining room for their meals, where appropriate.
Staff have received training to help them understand the importance of empowering patients to do as much as they can while they are still in hospital.
One of the members of staff who has received an award for his commitment to quality improvement in Elgar is Karamo Jammeh, a Healthcare Assistant who has been working at the Trust for almost two years.
"Since we have been encouraging patients to use the dining room for their meals it has made Elgar feel more like a community or a family," he said.
"It's different now, it's like our patients are coming into a restaurant or something and it is creating a lovely atmosphere. Any patient that is able to come down we bring them along and they have their food together and chat and it feels like they are not in hospital and the joy on their faces is lovely.
"We also have music and there are volunteers.
"I feel very proud of what we are doing here for our patients. I'm proud to be in team Elgar and I was very proud to receive my award."
Bijoy George is also a Healthcare Assistant and has been working on Elgar for two years.
"We are trying to give patients more independence by giving enabling care," he said.
"This isn't possible with all our patients, but those who can are feeling more confident.
"I was very proud to receive my award. The staff here are really good and we feel appreciated."
Volunteer Ann Smart received an award for her commitment to patient care in Elgar House and her long service.
Ann has been volunteering for eight years, initially in Malvern and now in Elgar, having been a nurse at Southmead prior to her retirement.
"I love it here and would come and volunteer more often if I could," she said.
Ann was presented with her award by North Bristol NHS Trust Chief Executive, Andrea Young, who then presented an award to Senior Staff Nurse, Becky Fowler,
who leads the practice development on Elgar, helping train staff in the enablement of patients.
Ahead of the presentation – and before revealing the name of the recipient, Matron Bev Davies said: "This nurse has provided us with fabulous opportunities, brilliant education and epitomises the word role model."
Becky said: "I chose to come to this ward because of the quality of care we provide. The work we have done here shows that investing in people means that we get
the best out of them and that has certainly been the case with our training in enablement."
Matron Bev Davies was also given a special thank you from the Head of Nursing for Medicine, Luisa Goddard, and the Chief Executive to "recognise her
contribution."
The Elgar Open Day included a host of activities to highlight the work the team have been doing including music, ballroom dancing, Taoist Tai Chi and a visit from
the Therapy Dogs that regularly volunteer on the wards.