Swallowing Awareness Day - how our team support hundreds of patients with swallowing difficulties
Swallowing Awareness Day - how our team support hundreds of patients with swallowing difficulties
Monday, 6 March 2017
Today is Swallowing Awareness Day – find out more about how our speech and language therapy team support people with swallowing difficulties.
It is something most of us do without even thinking - but for hundreds of patients a month issues with swallowing can have health implications and impact on their quality of life.
Whether it is a result of a stroke or major trauma, or a progressive neurological condition such as Motor Neurone Disease, swallowing difficulties can have an impact on a range of patients throughout the hospital and across the community. They can also happen after surgery or a stay in critical care (ICU) and are often a consideration in end of life care.
No matter what the reasons for swallowing difficulties – or dysphagia - our speech and language therapists are on hand to help.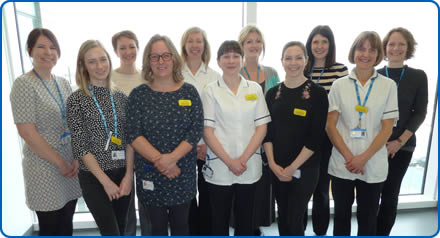 Our Speech and Language Therapists have a national reputation for the work they do and are the only team in Bristol to use some of the techniques they have for assessing patients with swallowing difficulties.
They receive an average of 160 inpatient referrals from wards at Southmead Hospital every month and about 50 referrals through outpatient appointments at Southmead and Cossham. They also provide support to people in nursing homes and in their own homes.
Difficulties with swallowing can lead to problems eating and drinking, which in turn can lead to malnutrition and can also lead to respiratory problems. They can lead to health problems that can require a stay in hospital to treat and can also mean that people may stay in hospital longer.
Due to the association between eating and drinking and socialising, swallowing difficulties can also affect people's quality of life.
Patients are referred to the team either by colleagues on wards within the hospital or GPs.
It can be that their expertise can help in establishing a diagnosis for a patient. They will also determine whether swallowing is safe for the patient or could leave them at risk of malnutrition or chest infections and establish the best way of managing their individual difficulties.
In some cases this would be through tube feeding, while in others it might be about coming up with strategies to help them swallow such as altering the texture of diet and fluids, using different utensils for eating and drinking or suggesting changes to the way people swallow.
Speech and Language therapists work with patients as they are recovering but also support people with decision making as swallowing gets worse, particularly in patients with progressive neurological disorders and at the end of their life.
In clinic the team use video fluoroscopy, a moving X-ray, to view both inpatients and outpatients swallowing food and liquid so they can establish where it is going.
For people who cannot leave their wards, fibre-optic endoscopic evaluation of Swallowing (FEES) – where a flexible scope is used to take a look at the larynx and pharynx to understand what is happening when a patient swallows.
Principal Speech and Language Therapist, Catherine Sluman, said: "As speech and language therapists we deal with a diverse range of patients, seeing people across the hospital.
"The work we do can have a significant impact on the patients we work with, potentially helping them get home from hospital earlier, avoiding them needing a hospital stay and can also vastly improve their quality of life."