Take a tour of the Brunel before you attend your appointment
Take a tour of the Brunel before you attend your appointment
Thursday, 30 June 2016
Patients can now take a look inside the Brunel building at Southmead Hospital Bristol before attending your appointment with the launch of a new photographic tour of the building.
The interactive tour of the main hospital building has been funded by Southmead Hospital Charity to enhance the experience of patients attending the hospital.
The project was funded as part of the charity's annual Christmas Cracker grants and is now available on the Trust website.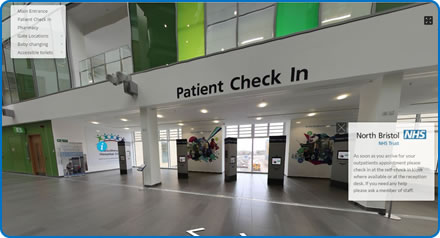 The tour provides clear photographic images,  taking users through the main front doors and along the full length of the building, clearly showing key areas such as the reception desk, patient check-in points, pharmacy, toilets and cafes.  Additional information is also provided along the way.
Gill Brook, Head of Patient Experience at North Bristol NHS Trust, said: "We know that coming to hospital can be stressful, finding your way around an unfamiliar environment can add to that stress . We hope that being able to familiarise yourself with the building before you arrive for an appointment will help demystify the experience and help you to feel more relaxed.  
"This tour allows you to take a virtual walk through the Atrium of the Brunel, see where you can check in for your appointment and find where the gates are located throughout the building.
"Thanks to Southmead Hospital Charity for funding 'Inside Brunel' which we hope will improve the experience of our patients.
"Let us know what you think via the Trust website or via our social media channels.
Liz Bond, Southmead Hospital Charity Major Donors and Trusts Manager, said: "Coming to hospital can be a daunting experience, and we're delighted to fund projects such as this which help make that a little less frightening for patients and their families."
"The Brunel building is impressive but its sheer size can make it seem formidable. 'Inside Brunel' should give everyone confidence and reassurance in advance of coming here.
"Each year the Charity funds projects within the Trust which improve the hospital experience for our patients and we were very happy to support this fantastic project."
To see 'Inside Brunel' click here.