Thangam Debbonaire MP visits Southmead Hospital cancer centres
Thangam Debbonaire MP visits Southmead Hospital cancer centres
Thursday, 5 April 2018
MP for Bristol West Thangam Debbonaire visited the Bristol Breast Care Centre and NGS Macmillan Wellbeing Centre at Southmead Hospital today (April 4) to see the facilities and support available to local constituents affected by cancer.
The visit comes three years after Ms Debbonaire was herself a patient at North Bristol NHS Trust for her treatment for breast cancer in 2015.
During the visit Thangam Debbonaire MP toured both the Bristol Breast Care Centre and the NGS Macmillan Wellbeing Centre next door, meeting staff, volunteers and patients. Both of the centres opened in 2014 following the refurbishment of Beaufort House – one of the oldest buildings on the Southmead Hospital site – which included design input from patients and clinicians.
Thangam Debbonaire MP said "I've been really looking forward to this visit. It's a place I'm familiar with as a patient during my treatment for breast cancer and I was keen to return as an MP to talk to staff and patients who are going through what I know is a very difficult time.

"I'd like to pay tribute to the staff at the Bristol Breast Care Centre and the NGS Macmillan Wellbeing Centre who do such a fantastic job and to Macmillan Cancer Support for all the vital work they do to support local people living with cancer and beyond."
Bristol Breast Care Centre brings together screening and symptomatic services which enables closer working between the two teams and has helped to improve the experience for patients.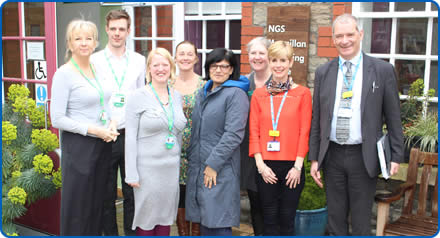 North Bristol NHS Trust Lead Cancer Nurse, Carol Chapman, said: "It was an honour to welcome Thangam back to Southmead Hospital to give her an overview of the care we provide and how we to support our patients holistically.
"We know that having undergone some of her treatment here Thangam already has an understanding but it is great that she wants to find out more about what we do."
Ms Debbonaire sat down for tea and cake in the NGS Macmillan Wellbeing Centre to talk to centre users about the support they have received.
Breast cancer patient Tracy Amos explained: "The Macmillan Wellbeing Centre Team have been brilliant. It's very reassuring knowing they are here. I don't know anyone who has been through anything like this so knowing the team at the centre are there for me and understand what I've been through has been so helpful. They have helped me with everything from prosthesis fitting, filling in forms, benefits advice and applying for a Macmillan grant. They do lovely tea and cake too!"
The NGS Macmillan Wellbeing Centre, based at Southmead Hospital, helps local people living with cancer, and their families, with free, confidential support and advice. Visitors to the centre can browse a wide variety of information booklets, get one-to-one specialist Macmillan benefits advice and practical help with issues like nutrition and coping with symptoms and side effects of their treatment. There are regular activities designed to support wellbeing including cancer information and support sessions, support groups, craft workshops, mindfulness, nordic walking sessions and a variety of complementary therapies. It is run by a dedicated team of experienced staff and over 40 volunteers.
The Centre was funded by Macmillan Cancer Support and the National Garden Scheme and opened in September 2014. It was set up as a a partnership between Macmillan Cancer Support and North Bristol NHS Trust and on average supports 10,000 people each year.