Think ABC before A&E
Think ABC before A&E
Thursday, 19 December 2013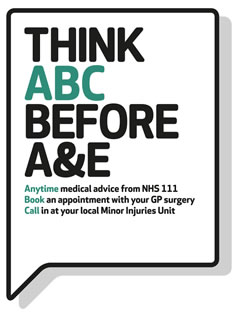 This winter (2013), the NHS has launched a campaign to help people in Bristol, North Somerset and South Gloucestershire choose the right health service when they are feeling unwell or are injured – allowing busy services like A&E to treat people who need them most.
Across the country, approximately 47% of people attending an A&E department could have received the same service via their GP, by telephoning NHS 111 or by calling in at an NHS walk-in centre, minor injuries unit or urgent care centre*.
Local people are being asked to Think ABC before A&E:
Anytime free medical advice from NHS 111
Book an appointment with your GP surgery
Call in at your local minor injuries unit or Walk-in Centre
The campaign has been co-ordinated on behalf of Bristol, North Somerset and South Gloucestershire Clinical Commissioning Group (CCGs).
Dr Jonathan Hayes, the GP Chair of South Gloucestershire Clinical Commissioning Group, said:  "It's really important that people know exactly where to go for the right treatment. A&E departments are extremely busy, and people coming to them with a minor injury and illness may have to face longer waits, particularly if there are major or complex injuries brought into the department by ambulance.
"So before considering A&E we would ask that local people really think about the best place to go for treatment or advice – that could be their GP, calling 111 for advice, talking to a pharmacist or visiting a Walk-in Centre or minor injuries unit where waiting times to be seen can be considerably less than A&E. Of course, in a serious life-threatening emergency do not wait, call 999 for immediate assistance."
Lesley Walford, an Emergency Nurse Practitioner based at the Yate Minor Injuries Unit, said: "On average we can see and treat most people in under an hour – sometimes within minutes. We are a specific department for minor injuries – these are all we do so we don't have complex, major cases that take a lot of time to deal with."
To find out your best options for treatment either call 111 or your GP, or visit www.thinkabc.org.uk.
The Urgent Care Centre based at South Bristol Community Hospital is led by Sarah Brierley, Service Lead. "Since the hospital opened in 2012 we have seen more than 58,000 patients at the Urgent Care Centre. Patients can come to us for a wide range of conditions such as sprains and strains, cuts and grazes and minor burns and scalds. We are also able to offer x-rays to assess suspected broken bones, saving people a long wait in A&E." The centre is run by Bristol Community Health, the Bristol-based social enterprise.
The campaign will run from Christmas 2013 to Easter 2014.
*The research was conducted by the Health and Social Care Information Centre on 3 December 2013.  The research can be accessed here: http://www.hscic.gov.uk/catalogue/PUB13040
The campaign has been created in partnership between: Bristol, North Somerset and South Gloucestershire Clinical Commissioning Groups; local acute trusts including North Bristol Trust, University Hospitals Bristol NHS Foundation Trust and the Weston Area Health NHS Trust; community providers including Bristol Community Health and the North Somerset Community Partnership and South West Commissioning Support.
Anytime advice from NHS 111
NHS 111 is available 24 hours a day and is free to call. It has been introduced if you need medical help fast but it's not a 999 emergency or you need medical information or reassurance about what to do next.
The phone lines are operated by fully trained advisors or nurses who will ask you questions about your symptoms. They may provide information and guidance or direct you to the most appropriate health service that can help you best.
Book and appointment with your GP
GP surgeries should be the first port of call when you are feeling unwell, having on-going illnesses or need advice. Many practices offer later and longer opening hours and emergency appointments.
If it is urgent you can also see a GP outside of usual opening hours. Just call your surgery and a recorded message will tell you how to contact the out of hours service.
Minor injuries units
There are number of minor injuries units across the region - Southmead Hospital, Yate Westgate Centre, Clevedon and the South Bristol Urgent Care Centre in Hengrove. Patients will be seen by a highly-trained emergency nurse practitioner in a calm and relaxed setting. Patients can drop in without an appointment or they may be referred by their GP or other health professional.
MIU treatments include:
Cuts and grazes
Sprains and strains
Some broken bones
Trips and falls
Bites
Minor head injuries
Minor burns
Minor ear/eye problems
Bristol City Walk-in Centre
NHS Walk-in Centres offer fast and convenient access to health advice, information and first aid. You can walk in seven days a week. Professional nurses run the centres and will be on hand to offer help when and where you need it.  The walk in service is available for all patients whether they are registered with a local surgery or not.
The service is for the treatment of any minor illness or minor injury, this includes sexual health concerns, emergency contraception, also wound management, travel health, smoking cessation and lifestyle management are all available. Procedures such as suturing and clip removals can also be performed.
Download the Think ABC before A&E leaflet PDF.