Trust signs national staff wellbeing charter
Trust signs national staff wellbeing charter
Wednesday, 24 August 2016
North Bristol NHS Trust has signed the Royal College of Midwives' Caring for You charter to show its commitment to staff wellbeing.
Healthy snacks, advice on exercise and sustainable travel were handed out at an event today (August 24) to launch the scheme to encourage maternity staff to look out for their physical and mental wellbeing.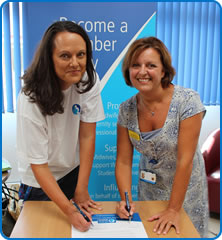 The Caring for You campaign was launched by the Royal College of Midwives (RCM) to promote health, safety and wellbeing at work, which helps midwives are to provide high quality maternity care for women and their families.
 The Trust's maternity department started piloting a similar scheme of its own nine months ago, led by RCM Learning representative, Claire Nutt and Wendy Martin with wellbeing sessions and massage offered to staff.
North Bristol NHS Trust Director of Midwifery, Lisa Marshall, signed the charter on behalf of the Trust along with midwife and RCM Health and Safety representative Kelly Hamilton.
"It is incredibly important that our staff know we value them and that we are supporting them to maintain their physical and mental health and working to provide a good and healthy environment. Happy staff make happy patients."