Trust takes top prize at NHS Sustainability Awards
Trust takes top prize at NHS Sustainability Awards
Thursday, 5 May 2016
North Bristol NHS Trust claimed the top prize at the NHS Sustainability Awards 2016.
As well as being named the overall winner at the awards ceremony, the Trust won in the Water and Behaviour Change awards and was Highly Commended in the Community category for its joint work with University Hospitals Bristol NHS Foundation Trust.
The Behaviour Change award was presented to the Trust in recognition of its Sustainable Healthcare Campaign, which was launched in March 2015 to reduce its environmental impact in order to contribute to healthy communities, lives and environments.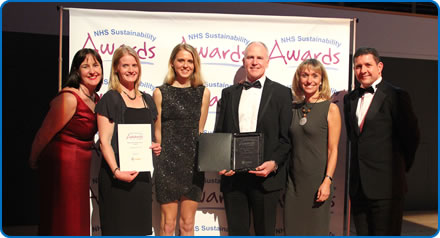 Director of Estates, Facilities and Capital Planning at North Bristol NHS Trust, Simon Wood, said: "We were delighted to receive such tremendous recognition at the NHS Sustainability Awards and were honoured to pick up the overall prize on the night.
"North Bristol NHS Trust has always taken its environmental responsibilities very seriously across all areas of the organisation.
"With more than 9,000 staff and more than half a million people visiting and using our services each year the environmental impact from our food, travel, transport, waste, energy and procurement could be significant. But staff across the Trust have done their bit to reduce this impact, making changes to do something different every day and this was acknowledged with us winning the Behaviour Change Award.
"We could not have achieved this without support from our employees and it is a testament to the efforts of those who have embraced sustainability."
The Water award recognised the work that went into the sustainable design of the Brunel building at Southmead Hospital. Sustainable urban drainage and water efficiency along with reusing rainwater have led to a 25% reduction in water consumption at the hospital.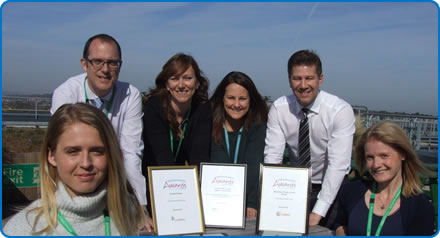 Alongside the central Bristol hospital trust, North Bristol NHS Trust was Highly Commended in the Community category for the enthusiasm, commitment and passion to embed sustainability in Bristol's healthcare sector. The two Trusts have worked collaboratively on the Green Impact Scheme, which raises awareness of the changes staff can make to reduce their environmental impact.
Simon added: "We are starting to see the environmental benefits of our new hospital building and it was fantastic to be named winners in the Water category for the way the design of the new hospital has helped us to conserve water resources.
"It was also great to see our collaborative work with University Hospitals Bristol NHS Foundation Trust over the last year recognised in the Community awards."
To find out more visit the sustainable development pages of our website.