Virtual tours launched for Cossham Hospital and Southmead Hospital's Maternity unit
Virtual tours launched for Cossham Hospital and Southmead Hospital's Maternity unit
Thursday, 21 September 2017
Two new virtual tours funded by Southmead Hospital Charity donors have been launched and are available to view online.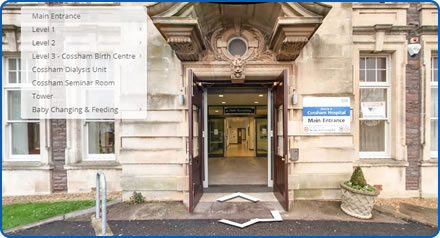 The tours allow users to step inside Southmead Hospital's Maternity unit and Cossham Hospital. The tours provide the opportunity for patients to familiarise themselves with the buildings in advance of a visit, giving them confidence and reassurance before they leave home.
Patients are able to virtually explore the central delivery suite at Southmead Hospital's Maternity unit, allowing them to see inside the delivery rooms and family areas. The Cossham tour takes visitors through the main entrance and along all levels of the building, including the dialysis room, imaging, and the Birth Centre, allowing expectant parents to have a look at the Geranium, Lavender and Jasmin birthing rooms.
You can view the tours at:
www.nbt.nhs.uk/insidesouthmeadmaternity