Visitors making mark with woodcarving project during Fresh Arts Festival
Visitors making mark with woodcarving project during Fresh Arts Festival
Friday, 18 September 2015
Visitors to Southmead Hospital today have been able to make their mark on a wood-work project that will go on display inside the Brunel building.
Woodcarver Alistair Park is working on a piece using words of wisdom from patients at the hospital who been involved with knitting and writing sessions on the wards throughout the year.
Having come up with a design for the oak panel, which will go on display in the atrium of the Brunel building once it is complete, Alistair taught people some basic woodcarving skills before giving the opportunity to try them out on the work.
He will be returning to the pink atrium of the Brunel building tomorrow (Saturday) for the second day of the Fresh Arts Festival at the hospital.
This weekend's community festival is showcasing the importance of arts in improving healthcare and some of the projects North Bristol NHS Trust's Fresh Arts programme runs for patients and relatives.
"I show people what's going on and give them advice about where to start and how to use the tools," Alistair said.
"People have also brought in their own ideas to some of it, like making certain lines wider or narrower or adding bits so the design is changing over time as people carve it."
Alistair has come up with the design that features the words of Southmead Hospital patients as part of a landscape of memories. The panel also features parts of Bristol that will be familiar to patients, such as the Dower House and the blocks of flats in Lawrence Hill.
He said that part of the beauty of wood carving is that it can also be appreciated by people who are visually impaired, due to its texture.
"Often when I'm carving I will stop looking at the piece and start feeling it instead," he said.
"Hopefully it will be something that people who can see can enjoy because of the grain patterns and texture of the wood, but also people who are blind or partially-sighted will also be able to enjoy.
"The whole piece is intended to be something that is hands on, within the necessary infection control needs, so that it is interesting."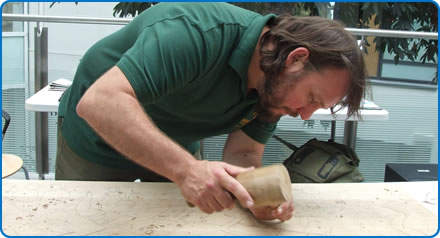 For more information about the Fresh Arts Festival visit http://www.nbt.nhs.uk/fresh-arts/fresh-arts-projects/fresh-arts-festival-2015.
To find out more about the Fresh Arts writing project and how patients helped contribute their words of wisdom visit http://www.nbt.nhs.uk/news-media/latest-news/patients%E2%80%99-experiences-being-turned-poetry-as-part-southmead-hospital-project.
And for more information about Knit With Me visit http://www.nbt.nhs.uk/news-media/latest-news/parents-poorly-babies-benefiting-knitting-sessions-nicu.
Sessions linked to all three projects will be continuing in the Brunel building until 4.30pm tomorrow (Saturday, September 19).