Volunteers honoured with celebratory tea party
Volunteers honoured with celebratory tea party
Friday, 15 June 2018
Volunteers were honoured with a celebratory tea party to thank them for their support to patients, staff and visitors at North Bristol NHS Trust.
There are 500 volunteers supporting health services in a host of roles ranging from patient befrienders to arts, those that work in the cafes and our popular therapy dogs. Volunteers also help patients at meal-times, support speech and language teams, our Move Makers help patients and visitors find their way around the hospital and patient panel members provide input to help in the design and delivery of services.
They were all celebrated with afternoon tea at the event funded by Southmead Hospital Charity, which also included the presentation of long-service awards for volunteers who have supported the hospital for five years or more by North Bristol NHS Trust (NBT) Chief Executive Andrea Young at the tea party on Saturday.
Seven volunteers who have clocked up 85 years of service between them picked up their awards on the day, while 30 others who could not make the event will also receive their certificates commemorating for five, ten, 15 and 20 years of service.
And as it is the 70th anniversary of the NHS this year volunteers who were also born in 1948 received "birthday" cupcakes during the afternoon.
Mavis Lane has been volunteering in the Southmead Hospital League of Friends shop and coffee shop for the past 20 years and was among the volunteers who received a long-service award.
She had recently moved to Bristol, where her daughter was already living and working as a paediatric nurse.
"She was in hospital here and we came and visited and I saw the League of Friends shop and said 'when we come and live here I think I will join that," Mavis said.
"When I moved to Bristol the then chairman of the League of Friends, Norman Goldsworthy went to my church and I said I wanted to give something back for my daughter.
"I'm over 80 now so I alternate my weeks in the cafe with a volunteer who received her 35-year-service award last year."
Rita Sutton has volunteered with the League of Friends for ten years, having met others already supporting the shop through the Town's Women's Guild.
"It's nice meeting the public and you feel that you are helping," she said.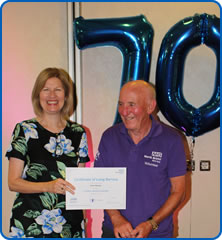 Christine Fowler is one of the members of the Trust' Patient Panel and received a certificate acknowledging her ten years' voluntary service.
"My husband gave me one of his kidneys in 2004 and I just wanted to give something back," she said.
"I saw they were asking for patient volunteers and applied, after going through all the processes I have been here ever since.
"To me it's really important because I'm representing the patients and their views, looking at patient safety and trying to make it better for patients in a constructive way."