We are supporting Public Health England's Act F.A.S.T campaign
We are supporting Public Health England's Act F.A.S.T campaign
Thursday, 1 February 2018
Today Public Health England (PHE) relaunched the Act F.A.S.T. stroke campaign in the South West which urges the public to call 999 if they notice even one of the signs of a stroke in themselves, or in others:
Face – has their face fallen on one side? Can they smile?
Arms – can they raise both their arms and keep them there?
Speech – is their speech slurred?
Time – time to call 999
North Bristol NHS Trust is a specialist centre for acute stroke, and we can offer thrombolysis and other emergency care to people from across the region. 
The Early Supported Stroke Discharge team (ESD) at NBT is a specialist stroke service, providing multi-disciplinary rehabilitation for patients in their own home.  The service promotes early hospital discharge for patients where appropriate, meaning that therapy can be moved from an inpatient setting to the home environment with the same intensity and expertise as the patient would receive in hospital. 
Katie Thomas is a Speech and Language Therapist at North Bristol NHS Trust. She works with adults who have communication and/or swallowing difficulties due to neurological conditions, such as stroke.
Katie explained: "I work with patients in their own home who have language, speech, and/or swallowing difficulties following their stroke."
"I work closely with Physiotherapists and Occupational Therapists to support patients on their return home.  We know that patients often have better outcomes when at home. It means that goals can be set with the patient and their loved ones that are highly meaningful, motivating, and relevant to their everyday life."
As a Speech and Language Therapist, Katie has an important role in advocating for individuals with communication difficulties following a stroke – ensuring they are appropriately supported and actively involved in decisions around their care.
Katie said: "I enjoy the variety of the job, no two days and no two patients are the same! I like seeing individuals in their own home as it helps me learn more about them and what may work best - also seeing progress, however small."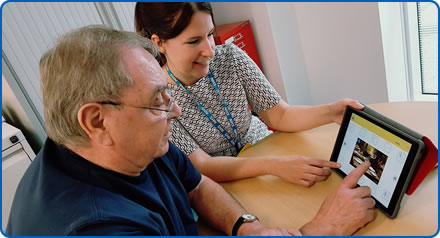 Carl Willson had a stroke in October 2016. He has Aphasia following his stroke, resulting in difficulty understanding and using language. 
Carl said: "In the beginning, I was in a bad state; I couldn't figure out how to use a kettle."
Carl received speech and language therapy, and was then referred on to the outpatient team.  He now attends a communication group, where he is able to meet and interact with others with speech and language difficulties.
Carl commented: "It is enormously helpful being able to talk to other people."
To find out more about Speech and Language Therapy, please visit http://bit.ly/2hqRSrl