Westminster service tops off a day of NHS 70 celebrations for North Bristol staff
Westminster service tops off a day of NHS 70 celebrations for North Bristol staff
Thursday, 5 July 2018
As part of our celebrations of the NHS' 70th birthday today, three members of staff at North Bristol NHS Trust attended a special service at Westminster Abbey.
Domestic Operatives Keiran Morgan and Petronella Lapidos, and Chief Operating Officer Evelyn Barker heard from Freya Lewis, a survivor of the Manchester terror attack, who has undergone more than 60 hours of surgery and has learned to walk again, and Dr Martin Griffiths, a leading NHS trauma surgeon who led a team treating victims of the London Bridge terrorist attack.
Evelyn said: "We absolutely loved the service and the privilege of being in the abbey. We were all moved by the speech from the young girl who spoke of how she survived the Manchester bombing, thanks to weeks of care by the NHS. We're very proud to be part of the NHS on this special day." 
Elsewhere at NBT we:
shared a cuppa, cake, chats and music at the Southmead Hospital Charity-run Big 7Tea party, one of thousands across the country.
continued to celebrate our amazing people as part of our month-long series of stories about staff and patients.
continued our memorabilia display of photos, memories and equipment through the decades.
delivered birthday cake made by our 1940s-clothed catering team to patients on wards.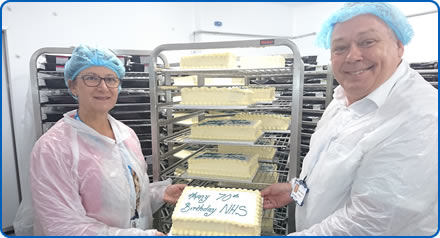 Nationally, NHS England Chief Executive Simon Stevens said: "It's a time for celebration looking back over seven decades when we're all living a lot longer and healthier – more than 10 years extra.
"We've seen amazing medical advances, whether it's organ transplantations or new cures for cancer or vaccines.
"But the reason why the Health Service does so well is frankly due to the brilliance of the staff."