Women to benefit from birth pool after League of Friends donation
Women to benefit from birth pool after League of Friends donation
Thursday, 29 June 2017
A new birthing pool has been installed in Southmead Hospital's Mendip Birth Centre after a £57,000 donation from the Southmead Hospital League of Friends.
Mendip Birth Centre is the midwife-led unit in Southmead Hospital's maternity unit where women can give birth in a relaxed setting.
Already 40% of women giving birth in the centre use a birthing pool, and the additional pool will mean more mums-to-be can benefit from using water during labour.
The League of Friends is celebrating its 40th anniversary this year, having been set up by Norman Goldsworthy and other supporters of the hospital.
The late Mr Goldsworthy was a chairman and president of the League of Friends and in recognition of the contribution he and his wife Margaret – who provided tea and coffee in the maternity unit for many years - made, the birth suite with the new pool now bears their name.
Their granddaughter Rachel Goldsworthy attended a celebration event to mark the opening of the new suite and cut a commemorative ribbon.
Rachel said: "My grandparents obviously meant the world to me and to my family. However, it is lovely to see how many people outside of the family recognised how truly special they were.
"I am honoured to have been able to represent the Goldsworthy family who are touched by the gesture being made by Southmead Hospital and the League of Friends in naming this as the Goldsworthy Suite, which is such a fitting tribute to my grandparents."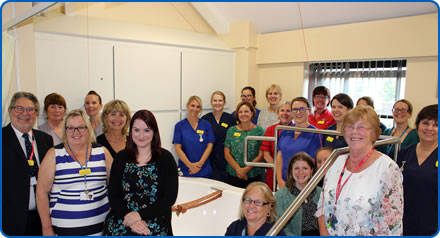 Southmead Hospital League of Friends Vice Chairman, Mike Long, said: "This is a great tribute to the Goldsworthys.
"Donations like this would not be possible if it was not for our volunteers who work tirelessly in the coffee shop – thank-you to all of you."
Interim Director of Midwifery, Gina Augarde, who set up the Mendip Birth Centre, said: "We have worked tremendously hard to make this a homely birth centre and have been able to do this with the help of the League of Friends.  This additional pool means more women can now benefit from using water in labour.
"We are so grateful to the League of Friends, which is why it felt right to acknowledge their support by naming this suite after the Goldsworthys."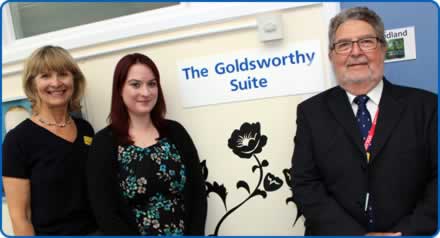 Birthing Pool facts and statistics
The birthing pool holds 700 litres of water.
40% of births in the Mendip Birth Centre are in water
Benefits of water in labour:
• Relaxation and comfort
• Pain relief
• A feeling of being in a 'safe place' where the hormones required for normal labour progress can flow freely and in the correct balance
• Less use of drugs
• Buoyancy and mobility
• Labour can progress more quickly when immersion is well timed.