Arthur Quinn – Cancer Support Worker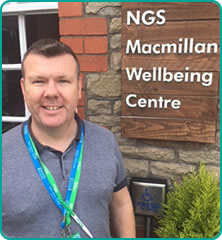 Arthur has a Diploma in Higher Education in Health & Social Studies, with Radiology and Oncology. As part of his diploma, he undertook three 14-week placements at Torbay General Hospital, Bristol Haematology and Oncology Centre (BHOC) and Derriford Hospital, Plymouth.
Arthur's work experience is:
Bristol Community Health – Community Discharge Team within the Integrated NBT Discharge Service (IDS)
Care Worker – working with clients with dementia, young adults with long term conditions and adults with long-term difficulties.
Outside of work, Arthur's interests are:
Travel – South and Central America, Africa and South-East Asia
Sport – Horse Racing and Rugby
Backgammon
Meeting up and spending time with family and friends.
Lisa Wilks – Lead Cancer Nurse
Rachel Townsley – Centre Manager