Arthur Quinn – Cancer Support Worker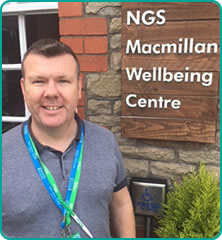 Arthur has a Diploma in Higher Education in Health & Social Studies, with Radiology and Oncology. As part of his diploma, he undertook three 14-week placements at Torbay General Hospital, Bristol Haematology and Oncology Centre (BHOC) and Derriford Hospital, Plymouth.
Arthur's work experience is:
Bristol Community Health – Community Discharge Team within the Integrated NBT Discharge Service (IDS)
Care Worker – working with clients with dementia, young adults with long term conditions and adults with long-term difficulties.
Outside of work, Arthur's interests are:
Travel – South and Central America, Africa and South-East Asia
Sport – Horse Racing and Rugby
Backgammon
Meeting up and spending time with family and friends.
Carol Chapman – Lead Cancer Nurse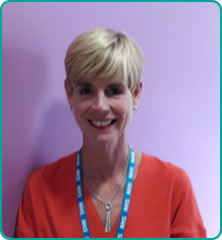 Carol provides professional leadership and support to a team of over forty clinical nurse specialists and cancer support workers within Southmead Hospital, including professional oversight of the staff at the Macmillan Wellbeing Centre.
Carol has over 30 years of experience working in the field of cancer and palliative care in both acute hospital and community settings in various practitioner and leadership roles.
Carol started her nursing career as a student nurse at Southmead Hospital, and after working in community specialist nurse teams at three different hospices, she took on the role of Palliative Care Team Leader at Frenchay Hospital, Bristol.
In May 2014, following a secondment, Carol was appointed to the position of Lead Cancer Nurse at North Bristol NHS Trust, where she has been leading on the development and introduction of new ways to improve the patient experience at North Bristol NHS Trust from diagnosis, through treatment and into follow-up care.
Carol starts each day with an early morning swim and enjoys spending time with her family and friends.
Helen France – Centre Manager
Helen has project managed the Macmillan Wellbeing Centre since its launch in September 2014.
Helen's current role is to support the team with the day to day running of the Centre.  Her specific focus is on service development to ensure the Centre is providing the best possible information, support and signposting for people with a cancer diagnosis, as well as ensuring the right support for carers and families.
Helen has a 30 year nursing background and has spent the last 15 years supporting those living with and beyond a cancer diagnosis. 
She has had roles at the Bristol Oncology Centre, St Peter's Hospice and was Ward Manager at the Macmillan Inpatient Unit at Frenchay Hospital before more recently working as a Specialist Nurse within Palliative Care here at North Bristol NHS Trust. 
She is passionate that the Service can expand beyond the Centre so it can benefit as many people as possible who need it.
In her spare time, Helen enjoys a new interest in butterfly watching and photography as well as dressmaking and crochet.
Lesley Moore – Cancer Support Worker
Lesley has worked in a number of roles in the health sector, with a focus on cancer care and some mental health roles. These roles have included:
Working as a nursing auxiliary in the hospice sector
Setting up a cancer support group while living overseas
Working in an in-patient setting within a mental health unit
Taking a counselling skills course that incorporated bereavement and loss
Working for 3 years as part of a palliative team in the community with the NHS, at the same time studying for a Person Centred Counselling qualification.
Outside of work, Lesley's interests are: 
Volunteering at Penny Brohn UK, a holistic cancer therapy centre
Raising money for cancer charities - Lesley has done abseils, swimming, 5k runs and a half marathon
Cooking, walking, swimming, reading and spending time with family.
Lianne Mack – Cancer Information & Support Specialist
Lianne is responsible for the day to day running of the centre, which involves managing the information resources, planning the patient engagement activities, and overseeing the cancer support workers and volunteers.
Lianne is a nurse by background and has worked on a variety of medical wards within the North Bristol NHS Trust.  She has a wide range of experience in supporting people during their cancer journey, from diagnosis, through treatment, palliative care and living with and beyond cancer.
Lianne is always open to hearing new ideas as to what you'd like to see happening at the centre and is on hand for a chat, catch-up or cup of tea.
Outside of work, Lianne likes to do:
Cycling
Parenting
Campervanning
Verity Otterbeck – Receptionist/Administrator
Verity is our Receptionist/Administrator at the Macmillan Wellbeing Centre. Her role is to meet and greet visitors, signposting them to any information or support they may need. Verity helps facilitate the smooth running of the daily activities at the Centre, such as the complementary therapy sessions.
Verity started as a volunteer at the Wellbeing Centre before taking on her current role. She is passionate about caring for others, loves meeting new people and is always happy to have a cup of tea and a chat or be a listening ear.
Before joining the team  , Verity worked for many years as a childminder. She also volunteered at a local parent and child project and more recently volunteered at the Bristol Breast Care Centre at Southmead Hospital.
Outside work Verity spends her time taking care of her seven children and two dogs. She likes to keep active, cycling, doing Pilates and going out dancing. Spare time is usually spent hanging out with the kids or going to the cinema.