Rather than all patients routinely returning to hospital for follow-up appointments, we offer a range of options tailored to meet your individual needs depending on the stage and complexity of cancer. Evidence has shown that many people can take more control of their care and management if provided with the right education, information, advice, support and practical resources to help improve their wellbeing. This is supported by a quick route back to the service if needed.    
The concept of the national Macmillan Recovery Package, is to help individuals feel supported, empowering them to manage their own care, and giving them appropriate information and support to do so. At North Bristol NHS Trust we are working with our partner Trusts and local community to implement the Recovery Package and embed it into all cancer pathways across the wider Bristol area.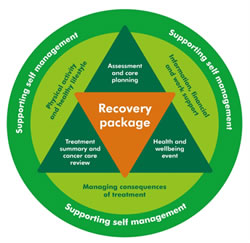 The Recovery Package combines several interventions which improve care co-ordination and outcomes for individuals living with or after a cancer diagnosis.
These key interventions comprise of:
A Holistic Needs Assessment (HNA) and care planning at key points of the care pathway
An education and support event, such as Health and Wellbeing Clinics or at North Bristol NHS Trust a Cancer Information and Support Clinic (CISC) to help you prepare for the transition to supported self-management. More information on CISCs is provided below
A Treatment Summary completed at the end of each acute treatment phase and sent to you and your GP
A Cancer Care Review completed by your GP or practice nurse to discuss your  needs. The review should happen within six months of your GP practice being notified that have had a cancer diagnosis, but this should be the start of an ongoing conversation required across the cancer care pathway.
For more information about the Recovery Package and national initiatives in cancer care visit www.macmillan.org.uk/about-us/health-professionals/programmes-and-services/recovery-package or you can discuss this with your Clinical Nurse Specialist or staff at the Wellbeing Centre.
Cancer information and Support Clinics (CISC) - Every Friday
This group education and information clinic is for people who have been diagnosed with a range of different cancers to offer general advice and information relating to a cancer diagnosis.
This session is part of your routine holistic care as you go through treatment and with your recovery.
The clinic is run by members of the Macmillan Wellbeing Centre and topics covered include:
What to expect and who to contact
Overview of cancer and treatments
Support available through treatment
Fatigue Management
Physical Activity and Diet
Work and Finance
Emotional wellbeing
There are opportunities to ask questions during the session and there is a wide range of information available specific to your cancer diagnosis.
You are welcome to bring along a relative, partner or carer. Tea and coffee will be provided on arrival and during a refreshment break.
These clinics are provided weekly, usually on a Friday. For more information contact either your Cancer Nurse Specialist or us here at the Macmillan Wellbeing Centre.