70 Years of the NHS
70 Years of the NHS
The NHS is turning 70 on 5 July 2018, and we need your help
On 5 July 2018 the NHS will celebrate its 70th birthday and there are many exciting campaigns and events taking place to mark the special occasion.
Over the last 70 years, the NHS has transformed the health and wellbeing of the nation. It was founded on the principle of free high quality health care for all, and has evolved to meet our changing needs through new treatments, pioneering surgeries and technical innovations – helping us live longer and better lives.

Share your stories
We are keen to highlight some of the amazing achievements made at Southmead, Frenchay and Cossham hospitals, Bristol Centre for Enablement and other services that have been part of NBT's history over the years.

Are you a former member of NBT staff, or did your relatives work here back at the foundation of the NHS? Are you one of several generations who have worked in our hospitals?

Were you the first person to undergo an innovative procedure under our care, or were you in the operating theatre when a surgeon carried out a world first?

Were you born at one of our hospitals around the same time as the NHS was born; are you also preparing to celebrate your 70th birthday this year?

Whatever your connection to the NHS or its 70th birthday, we are keen to hear your stories and experiences and see any memorabilia you have. You can contact us via NHS70@nbt.nhs.uk.

We'll also be asking for you to share what the NHS means to you, so watch out for more info on our Facebook, Twitter and Instagram pages.
Why I love the NHS

We also want to hear what the NHS means to you. We have launched a campaign across our social media channels (Twitter, Facebook, Instagram, LinkedIn) that encourages people to share the reasons why they love the NHS.
To get involved share a message, video or image by printing a specially-designed poster, on Twitter, Facebook or Instagram including the hashtag #WhyILoveTheNHS.

Lend us your memorabilia

For the birthday week we are planning to run a memorabilia display in the Brunel building at Southmead Hospital.

Do you have old photographs of our sites, staff or services you would be willing to share? Or do you have medical equipment, uniforms or any other kit from past decades? Please contact us via NHS70@nbt.nhs.uk.

Southmead Hospital Charity, which supports the services we run, also has lots planned to help us mark NHS70.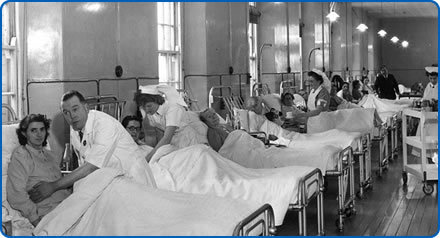 TheBig7tea

Southmead Hospital Charity will be joining people across the country in holding its own Big7tea party to enable people to share a cup of tea and their stories of what the NHS means to them.

Please join us on July 5 in the atrium of Southmead Hospital's Brunel building for a cuppa and cake for a suggested donation.

Or if you'd like to host your own Big7tea at home, work, school or in your local community and raise money for Southmead Hosptial Charity please get in touch with the team for a free fundraising pack on hello@southmeadhospitalcharity.org.uk.