Dr Dina Bisson
Dr Dina Bisson - Obstetrics & Gynaecology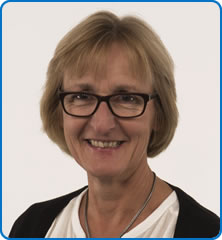 GMC Number: 2613268
Year of first qualification: 1982, Manchester University
Specialty: Obstetrics & Gynaecology
Clinical interests: Vulval Skin Disorders, FGM, Ambulatory Gynaecology
Secretary: Maria Garbutt
Telephone: 0117 4146749
Dr Dina Bisson runs a specialist clinic for patients with Complex Gynaecology Skin disorders on alternate Tuesday afternoons.
Dr Bisson is also the lead for the management of women with FGM.
She is one of four consultants at North Bristol NHS Trust who run a Consultant Ambulatory Gynaecology service which includes outpatient hysteroscopy and surgical management of miscarriage under local anaesthetic.
She is the Specialty Director for Gynaecology.