Dr Mike Bradley - Radiology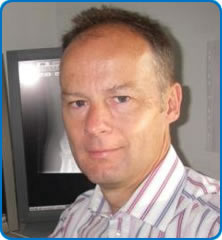 GMC Number: 2602363
Year of first qualification: 1982, University of Liverpool
Specialty: Radiology
Clinical interest: Musculoskeletal radiology
Secretary: Michelle Sansom
Telephone: 0117 414 9013
Dr Mike Bradley has particular interest in musculoskeletal ultrasound and intervention.
He is the lead radiologist for the sarcoma MDT. 
He conducts all types of imaging and intervention invovling musculoskeletal radiology.
He is a lecturer at the University of the West of England and the University of Bristol. 
He undertakes regular research projects and has written / contributed to 4 books and published over 150 articles.
Related Information