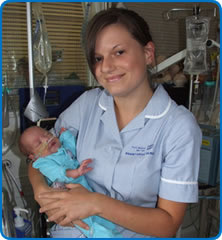 Our shift starts at 7.30am where 12 colleagues and I meet in the ward office to be informed of important safety and unit information for the day. It is here that we find out where we will be working– Intensive care, High Dependency or Special Care.
A typical day for me working in  intensive care  begins with handover of care of the babies from the previous nurse. We always try to care for babies that we have looked after before, this way we get to know them  better such as how they behave and how they like to be nested ready to sleep.  This also enables me to develop a relationship with the baby's parents.
I always ensure that I know all I need to about the babies I am caring for, and then I check their resuscitation equipment is set correctly. I will be allocated the care for 1 or 2 babies in this room. I plan the day ahead considering the feeding times and when nappy changes and drugs are due for the babies. I check the parent information sheet in each baby's file to see what time his/her mummy and daddy are coming in so that I can facilitate time to assist them to provide the baby's care. Next is to ensure that there is an empty space fully prepared in case a baby needs our help and requires admission to our neonatal unit.
After all that preparation, I then begin my day. Each day varies greatly. This is the same in each nursery room, but is guaranteed to involve preparing and checking medications, managing intravenous fluids and infusions, giving blood products, recording observations and documenting each baby's care. My favourite role is providing 'top to tail' care for a baby, normally done every 6 hours. This involves cleaning their face, mouth and if well enough a light wash for the rest of their little bodies. I change their nappy, change their sheet and reposition her/him ready for another deep sleep.
Pre-term babies often forget to breathe, when this happens their heart rate and oxygen saturations will drop – so my ears are always open for the alarms and immediate action is taken to help them. Often this requires a little pat to remind them what they need to do – this was never needed of them in the womb. This is scary for parents to see but a normal part of the growing and recovery of tiny babies.
I really enjoy supporting parents to provide the care for their newborn baby and assist in providing an environment that encourages their attachment process – particularly when their baby is able to come out of their incubator for skin-to-skin cuddles.
I love my job; it comes with many challenges and many rewarding experiences!
Love from Amy Registered Nurse