Volunteers in Bristol are being asked to take part in a study using a Oxford/AstraZeneca variant vaccine, aimed at preventing the Beta COVID-19 variant.
The University of Oxford in partnership with AstraZeneca are leading the Phase II/III study, supported by National Institute for Health Research (NIHR), which will assess the safety and immunogenicity of the variant vaccine in both previously vaccinated and unvaccinated adults.
The study will recruit approximately 1,865 participants across the UK, South Africa, Brazil and Poland, including 800 participants across 14 NIHR sites.
The new variant vaccine, known as AZD2816 has been designed using the same adenoviral vector platform developed by researchers at the University of Oxford using the ChAdOx platform technology, with ten minor genetic alterations to the spike protein based on the Beta (B.1.351, South African) variant.
The variant vaccine will be administered to those previously fully vaccinated with two doses of original Oxford/AstraZeneca or an mRNA vaccine (Pfizer and Moderna), at least three months after their last injection. AZD2816 will be given as two doses, in non-vaccinated individuals four or twelve weeks apart, or given as a second dose following a first dose of Vaxzevria four weeks apart.
Professor Sir Andrew J Pollard, Chief Investigator and Director of the Oxford Vaccine Group at the University of Oxford, said:
"Testing booster doses of existing vaccines and new variant vaccines is important to ensure we are best prepared to stay ahead of the pandemic coronavirus, should their use be needed."
Dr Rajeka Lazarus, a consultant in infectious diseases and microbiology at UHBW and Principal Investigator for the study at UHBW said:
"This new variant vaccine has minor genetic alterations based on the Beta variant, which may help to broaden individuals' immune response against new variants. It is really important that we test the safety and immunogenicity of this vaccine to ensure we are in the best position to keep ahead of any emerging variants.

This is another key COVID-19 vaccine study that is launching in Bristol via the NIHR. We continue to be thankful to all the members of our community who come forward and volunteer to take part in this important work."
Professor Andrew Ustianowski, NIHR Clinical Lead for COVID-19 Vaccination Programme and Joint National Infection Specialty Lead, said:
"Throughout the pandemic the UK has demonstrated its expertise in clinical vaccine research, consistently supported by the fantastic efforts of tens of thousands of study participants. The latest booster study from Oxford/AstraZeneca is just one of the latest, world-leading steps in our battle to tackle the virus and one of the variants of concern.

We are calling on the general public once again to work alongside researchers to help recruit to this study and help gather the data we need on the new vaccine."
The study is recruiting participants until August, with initial data from the trial expected later this year. Once available, data will be submitted to regulators for assessment as a next-generation booster vaccine and through an expedited regulatory pathway.
If you are interested in taking part in the AZD2816 study at North Bristol NHS Trust, you can find out if you are eligible for the study by completing the pre-screening questionnaire.
Email us at AZVariant-VaccineStudy@nbt.nhs.uk.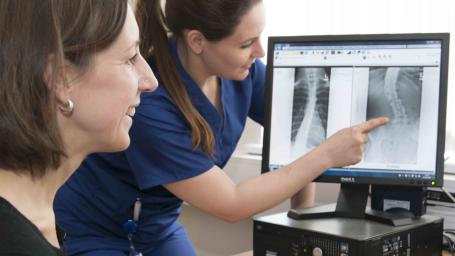 Become one of the thousands of people taking part in research every day within the NHS.
Contact Research
Research & Development
North Bristol NHS Trust
Level 3, Learning & Research building
Southmead Hospital
Westbury-on-Trym
Bristol, BS10 5NB

Telephone: 0117 4149330
Email: research@nbt.nhs.uk