The blood disorders research team at North Bristol NHS Trust co-ordinates and supports the delivery of clinical trials across a variety of haematological conditions including, myeloma, lymphoma, leukaemia, myeloproliferative neoplasms (MPNs), and immune thrombocytopenic purpura (ITP).
Our wide portfolio of cancer research makes us one of the largest cancer centres in the South West, with over 200 new blood cancer cases being diagnosed over the last year. Of this total, we currently have over 100 patients taking part in blood cancer trials at North Bristol NHS Trust.
In 2017 NBT was also designated a Myeloma UK Clinical Trials Network Accessory Site. This means that our patients are able to access to drugs that are not currently available on the NHS.
Please speak to the person treating you to find out if there is a research study that may be able to help you.
Studies in follow-up:
FiTNEss MYELOMA XV
Myeloma is a cancer diagnosed in around 5500 patients within the UK, each year. The development of treatments have increased life expectancy in all patients, but these have been less effective in older and frailer patients. There is no evidence to suggest their Myeloma is more aggressive, so it needs to be asked why this is the case.
Research is beginning to look at older Myeloma patients who are ineligible for transplants. Myeloma XI, a trial previous to this run at the CTRU, where 1840 of these patients were recruited, has shown that treatment outcomes were not necessarily associated with different combinations of treatment. Frailty-adjusted can potentially show how problems developed during treatment that are not responding effectively so it can be minimised.
All participants receive induction treatment with ixazomib, lenalidomide and dexamethasone and are randomised on a 1:1 basis at trial entry to either frailty score-adjusted treatment vs.standard up-front treatment followed by toxicity dependen dose modifications during therapy. Following 12 cycles of induction treatment participants alive and progression-free undergo a second randomisation.
In the second phase of the trial, patients will be tested to assess whether lenalidomide and ixazomib is effective as a maintenance treatment. Patients will either receive lenalidomide and ixazomib, or lenalidomide and placebo (something that has a similar taste and appearance to ixazomib but has no effect on the person) to test this. Participants and their treating physicians will be blinded to maintenance allocation.
Project Details
Principal Investigator: Dr Alastair Whiteway
Planned End Date: 04/08/2026
Local Ref: 4420
MYELOMA XI
Randomised comparisons in myeloma patients of all ages of thalidomide, lenalidomide and bortezomib combinations and maintenance lenalidomide.
Project Details
Principal Investigator: Dr Alastair Whiteway
Study Completion: 01/04/2022
Local Ref: 2437
LocoMMotion
Currently we don't have a clear picture of how heavily pre-treated patients are treated in routine clinical practice and the effectiveness of those treatments, give the lack of regulatory approved therapies in this setting.
The increased use of combination therapies in multiple myeloma treatment has led to a growing number of patients with heavily pre-treated myeloma (i.e. patients that have been treated with bortezomib, carfilzomib, lenalidomide, pomalidomide and daratumumab and documented disease progression). In these types of patients, there is a lack of comprehensive prospective information on how they are managed in real life and what their outcomes are to subsequent treatments.
The purpose of this non-interventional study is to understand over a 24-month period the safety and clinical response of patients who have received at least 3 prior multiple myeloma treatment regimens.
Project Details
Principal Investigator: Dr Martin Kaiser
Study Completion: 28/04/2022
Local Ref: 4588
FLAIR
This is a phase III, multicentre, randomised, controlled, open, parallel group trial in patients with previously untreated CLL.
Project Details
Principal Investigator: Dr Sophie Otton
Study Completion: 15/10/2024
Local Ref: 3378
Millennium
A Phase 3, Randomized, Placebo-Controlled, Double-Blind Study of Oral Ixazomib Maintenance Therapy After Initial Therapy in Patients With Newly Diagnosed Multiple Myeloma Not Treated With Stem Cell Transplantation.
Project Details
Principal Investigator: Dr Alastair Whiteway
Study Completion: 25/11/2022
Local Ref: 3477
ARTIMiDS
A non-interventional post authorisation registry of patients treated with pomalidomide for relapsed and refractory multiple myeloma who have received at least two prior treatment regimens, including both lenalidomide and bortezomib, and have demonstrated disease progression on the last therapy.
Project Details
Principal Investigator: Dr Alastair Whiteway
Study Completion: 31/07/2022
Local Ref: 3483
MUK9a
Multiple myeloma is a disorder of plasma cells in the bone marrow. It is the second most common haematologic cancer in the EU, causing about 21,000 deaths in the EU in 2008.
Approximately 20% of patients with myeloma have an extremely poor prognosis with a survival of less than 3 years and these patients are characterised as having high risk (HR) disease. There have been no significant improvements in outcome over the last decade for patients with HR disease. However recent data has demonstrated the efficacy of the combination of multiple novel agents in high risk disease.
The aim of this phase II study is to assess whether future trials in this setting are feasible, and to determine risk status for participants with myeloma, in order to recruit high risk participants into MUK nine B. Participants who are found to be high risk and who are eligible will be provided with information on MUK nine B. Participants who are found not to be high risk will be treated according to NICE standard treatment (which may include other clinical trials). Patients will be followed up and data and biological samples will be centrally collected according to the schedule of MUK nine A to generate a knowledge resource about real-world treatment outcomes in newly diagnosed myeloma in the UK.
The study includes approx 560 adult participants undergoing bone marrow investigation due to suspected symptomatic multiple myeloma or participants with biopsy confirmed symptomatic multiple myeloma, willing to undergo a further study bone marrow aspirate for molecular profiling. Participants will be recruited from approximately 30 approved NHS Hospitals throughout the UK.
Project Details
Principal Investigator: Dr Alastair Whiteway
Study Completion: 31/10/2024
Local Ref: 4297
Lenalidomide Post Authorisation Study
The purpose of the Revlimid TNE NDMM PASS is to provide accurate clinical information regarding the safety profile of lenalidomide relative to other first-line regimens when prescribed for TNE NDMM patients across a variety of diverse clinical settings, particularly with respect to the cardiovascular safety profile of lenalidomide.
Project Details
Principal Investigator: TBC
Study Completion: TBC
Local Ref: 4697
Myeloma XII
Background: Multiple myeloma (MM) is a blood cancer with approximately 4500 new cases in the UK each year.
Treatment for MM has changed in the last decade with the arrival of new drugs such as proteasome inhibitors and immunomodulatory drugs (IMiDs). These new drugs have been shown to improve response rate and duration of response in second-line treatment (second treatment for patients whose MM has deteriorated since their first treatment).
The Myeloma X study showed that an autologous stem cell transplant (ASCT) (using the patient's own stem cells) as part of second-line treatment prolongs progression free survival (PFS) following chemotherapy containing a proteasome inhibitor (known as re-induction therapy). Consequently, the number of second ASCTs performed in the UK has risen and is now recommended (for suitable patients) by the International Myeloma Working Group. However, the Myeloma X study showed that depth and duration of response in second-line ASCT, was less than that of first-line ASCT. Hence, this study will investigate whether depth and duration of response can be improved by the addition of a proteasome inhibitor called ixazomib to melphalan conditioning, consolidation and maintenance treatment.
Aims: This trial aims to determine and compare:
The depth of response between standard melphalan conditioning and augmented (adding ixazomib) melphalan conditioning at second ASCT.

The impact of adding consolidation and maintenance treatment versus no further treatment, on progression free survival.
Methods: This is a phase III, randomised, controlled, multi-centre, open-label trial with a single intervention registration stage and two randomisations. The first randomisation will be between augmented ASCT and standard ASCT.
The primary end-point is to assess improvement in depth of response. The second randomisation will be between consolidation and maintenance treatment versus no further treatment. The primary end-point being to assess the duration of response as determined by PFS.
Project Details
Principal Investigator: Dr Alastair Whiteway
Study Completion: 01/12/2021
Local Ref: 3871
MCL Biobank
Mantle Cell Lymphoma (MCL) is a type of non-Hodgkin's lymphoma; a cancer of the lymphocytes (white blood cells) that occurs when the growth of these cells is out of control. MCL is a relatively rare, usually aggressive cancer for which there is currently no known cure. Many patients are treated as soon as they are diagnosed because they generally have a poor prognosis. However, our experience tells us that there is a sub-set of patients that have a less aggressive form of the disease. They can remain asymptomatic, sometimes for years. These patients need not be treated with systemic chemotherapy straight away and 'watching and waiting' does not affect the outcome at all.
There are currently no tests that can tell us which patients have indolent behaving disease at diagnosis. Knowing this will be really helpful in finding the best way to treat people with this disease in the future. The only way that we can really be sure which type of MCL a patient has, is to observe what happens to them over the next few years.
We will collect baseline blood and saliva samples, diagnostic biopsy material and clinical information from patients who are newly diagnosed with MCL. These samples will be stored in a Biobank. After this, patients will not directly be involved as the information we need to collect can be found in the medical notes. We aim to recruit 300 participants over 3 years.
Once the study is completed, we will know which patients have indolent MCL and which patients have aggressive MCL. We will then study the stored samples to try to identify and understand the differences between indolent and aggressive forms of MCL.
Project Details
Principal Investigator: Mrs Suriya Kirkpatrick
Study Completion: 30/09/2021
Local Ref: 3686
The Melanoma Lifestyle Study
Melanoma Lifestyle Study and it will look at the role of diet and lifestyle following the diagnosis of melanoma. We found evidence in a retrospective study that vitamin D supplementation reduced the risk of late relapse from melanoma. We reported further evidence for this from the Leeds Melanoma Cohort in 2009. The Melanoma Lifestyle Study is designed to examine these findings in a third independent study in which we can also investigate the effects of dosage. We will investigate the effect of reported intake of vitamin D, serum levels of vitamin D, inherited variation in the genes governing serum levels and the effect of serum vitamin D on the cell, and finally somatic changes in the melanoma tumour itself.
The secondary purpose is to investigate the effect of exposure to incidental drugs such as statins and non-steroidal anti-inflammatory drugs (NSAID) on risk of relapse.Germline DNA and tumour DNA/RNA extracted for studies on the effects of vitamin D will also be used to test hypotheses that other genes have an effect on relapse from melanoma.
Project Details
Principal Investigator: Dr Michael Shere
Study Completion: 01/05/2028
Local Ref: 2160
Completed Studies:
PTCL Biobank
Patients with Peripheral T-Cell Lymphoma (PTCL) have a poor outlook. Current first line treatments are inadequate and are associated with high rates of early relapse. Despite the recent introduction of novel agents for patients with relapsed disease prognosis is again very poor. There are currently no targeted treatments although monoclonal antibodies directed against Tfh surface markers including PD1 are available (Ansell et al, 2014) and have been trialled in other conditions. Similarly therapeutic anti-ICOS antibodies (MedImmune, MEDI-570) have been trialled in autoimmune conditions and a phase 1/2 trial for PTCL is about to start recruitment in Canada (Clinical Trials Identifier: NCT02520791).
Over the next few years, therefore, treatment for PTCL is anticipated to change radically. A PTCL Biobank will be a valuable resource to expedite the development of diagnostic tests, based on the new genetics of these diseases and biobank samples will also be used to investigate biomarkers for response to specific therapies and the prediction of relapse.
Project Details
Principal Investigator: Samreen Siddiq
Study Completion: 08/05/2020
Local Ref: 3958
PiMMS
This study will investigate the real-world outcomes for patients receiving Panobinostat for myeloma at hospitals in England.
The primary objective is the evaluation of progression-free survival (PFS) of relapsed/refractory multiple myeloma (RRMM) patients receiving panobinostat in combination with bortezomib and dexamethasone following at least 2 prior regimens including bortezomib and an immunomodulatory agent. The study will also investigate other measures of response depth and length, toxicity and tolerability as measured by incidence and severity of adverse events and dose modifications in real world practice, and health economics measures, determined by number of outpatient, inpatient, and intensive care admissions and length of inpatient stay while on active treatment with Panobinostat.
The study will comprise the retrospective collection of existing routine clinical data, with no additional input required from patients.
Project Details
Principal Investigator: Reuben Benjamin
Planned End Date: 10/08/2021
Local Ref: 4976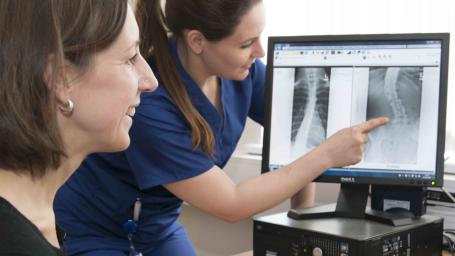 Become one of the thousands of people taking part in research every day within the NHS.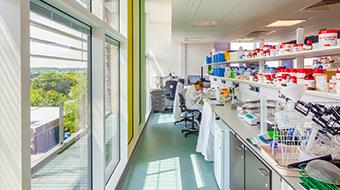 Find out more about our research and how we're working to improve patient care.
Contact Research
Research & Development
North Bristol NHS Trust
Level 3, Learning & Research building
Southmead Hospital
Westbury-on-Trym
Bristol, BS10 5NB

Telephone: 0117 4149330
Email: research@nbt.nhs.uk