The Oxford (COV002) study aims to assess how well people across a broad range of ages could be protected from COVID-19 using a new vaccine called ChAdOx1 nCoV-19.
A chimpanzee adenovirus vaccine vector (ChAdOx1), developed at The University of Oxford, was chosen as the most suitable vaccine technology for a SARS-CoV-2 vaccine as it can generate a strong immune response from one dose and it is not a replicating virus, so it cannot cause an ongoing infection in the vaccinated individual. This also makes it safer to give to children, the elderly and anyone with a pre-existing condition such as diabetes. Chimpanzee adenoviral vectors are a very well-studied vaccine type, having been used safely in thousands of subjects, from 1 week to 90 years of age, in vaccines targeting over 10 different diseases.
Each phase of the study will provide valuable information on safety of the vaccine and its ability to generate good immune responses against the virus – and promising early results from Phase III trials indicate that the candidate vaccine is effective at preventing COVID-19 (SARS-CoV-2), offering a high level of protection.
Professor Andrew Pollard, Director of the Oxford Vaccine Group and Chief Investigator of the Oxford Vaccine Trial, said:
"These findings show that we have an effective vaccine that will save many lives. Excitingly, we've found that one of our dosing regimens may be around 90% effective and if this dosing regimen is used, more people could be vaccinated with planned vaccine supply.

Today's announcement is only possible thanks to the many volunteers in our trial, and the hard working and talented team of researchers based around the world."
Helen Lewis-White (Deputy Director Research & Innovation) added:
"This is a huge boost in the fight against COVID, this is a really usable vaccine, being safe and easy to store and transport.  

We entered 643 participants here and the work that all teams have done to support this has been phenomenal. There have been lots of patient visits, frantic last minute changes/amendments and some very long weeks to fit it all in. I cannot thank you enough for the work you have done.

For those not working directly on the trial, the work you have been doing has enabled your colleagues to work on the vaccine trial and so the thanks is for you equally, without you we couldn't have done it – a real team effort!"
NBT's vaccine work is progressing quickly. To ensure you have the latest information or to find out more about the trial, please visit the Oxford COVID-19 vaccine web hub or the COVID-19 trial website.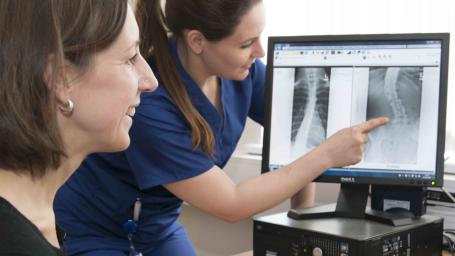 Become one of the thousands of people taking part in research every day within the NHS.
Contact Research
Research & Development
North Bristol NHS Trust
Level 3, Learning & Research building
Southmead Hospital
Westbury-on-Trym
Bristol, BS10 5NB

Telephone: 0117 4149330
Email: research@nbt.nhs.uk