Stroke Research Team Leads
Development Lead - Dr Phillip Clatworthy
MB BChir, PhD Cantab, FRCP Neurology is a Consultant Stroke Neurologist and Rehabilitation clinical lead at North Bristol NHS Trust; Stroke Association Thompson Family Senior Clinical Lecturer; NIHR West of England Clinical lead for Stroke and Director of the Bristol Stroke Health Integration Team.
Phil obtained his undergraduate medical degree, PhD and MRC Clinical Research Training Fellowship at the University of Cambridge.
During his speciality training in neurology with stroke medicine, Phil was awarded the Elizabeth Blackwell Early Career Research Fellowship by the University of Bristol. In 2013 Phil became an NHS consultant stroke neurologist at North Bristol NHS Trust and is the clinical lead for rehabilitation.
Phil leads the programme of research into Stroke at Southmead Hospital, Bristol. In 2015 he was awarded the prestigious Thompson Family Senior Clinical Lectureship by the Stroke Association. This has enabled work on real-world individualised rehabilitation in visual loss due to stroke. He was made director of the Bristol Stroke Health Integration Team and acts as the Clinical Lead for Stroke at the West of England Clinical Research Network.
Since 2015 Phil has been a lead and co-applicant on peer-reviewed grant funding (NIHR).
Research interests include: Stroke, visual dysfunction, brain plasticity, rehabilitation & artificial intelligence.
Email:phil.clatworthy@bristol.ac.uk
Video Transcript:
Thank you so much for supporting Stroke Research here at Southmead. At the moment we're only a very small group but with your support we'll grow and become a thriving stroke research network to support people after stroke and prevent stroke and improve people's outcomes when they have a stroke. My own passion is for visual loss after stroke, many people don't realise that a stroke can cause visual loss but it's very common affecting tens of thousands of people in the UK every year and it can be very disabling. At the moment we're working on new treatments including Stroke rehabilitation to improve people's quality of life when they've been affected by visual loss. In the Stroke research group we're also working in other areas including thrombectomy or clot extraction after stroke using brain imaging to increase the number of people who are eligible for emergency stroke treatment. We're working on stroke of genetics research and also we're individualizing blood thinning treatment to prevent a stroke. So thank you once again for supporting stroke research here at Southmead.
Delivery Lead - Dr Sandeep Buddha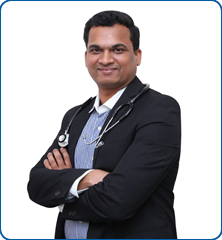 Sandeep completed his undergraduate medical training in India before moving to the UK to complete further training at Imperial College, London. He has recently joined the team at North Bristol NHS Trust as a Stroke Consultant.
Sandeep has been involved in a number of research studies most notably focusing on the use of Intravenous Tenecteplase for acute ischaemic stroke patients and its outcome.
Research interests include: genetics in Stroke; studies looking at neurological outcomes across domains to support work that is being done by the International Stroke Genetics Consortium Global Alliance for Acute and Long-Term Outcomes; as well as at the impact of cognition on stroke recovery.