STAR Patient Research Group
Support and treatment after joint replacement (STAR)
The group came together in September 2015 to support the STAR research programme which is researching long term pain after knee replacement.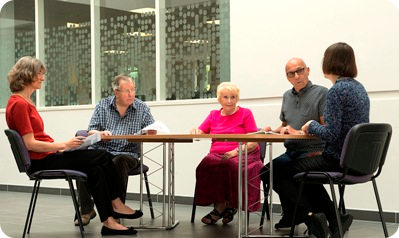 One of the projects we have been involved in was a health questionnaire posted to patients after their knee surgery.  A researcher came along to our meeting and said that the responses had been poor and wanted our thoughts and whether their approach of sending another questionnaire to the patients who had not responded was acceptable.
After looking at it we thought it was really long and that it may put people off completing it. We suggested rather than just sending out another questionnaire, why didn't  they call the patient to ask if they needed any help to complete it.  As a group we felt that personal contact was far more patient friendly, and also meant that the patient could ask any questions at the same time. 
Another problem with the questionnaire was that patients did not respond to some of the questions, so we helped the researchers to re-word them.  The team now also send out a pre-notification card to give patients the heads-up that the questionnaire is coming and they also enclose a teabag to encourage patients to take a break and have a cuppa whilst completing it.
At one of our regular meetings Amanda our co-ordinator confirmed that all of our recommendations had been put into place which means that our input has made a real difference.

"It's Important that we still do the research so we can stop this pain in the future"
Related Information
Contact Research & Innovation
Research & Innovation
North Bristol NHS Trust
Floor 3, Learning & Research Centre
Southmead Hospital
Westbury-on-Trym
Bristol, BS10 5NB

Telephone: 0117 4149330
Email: research@nbt.nhs.uk