Oncology
Cytogenetics Oncology at Bristol Genetics Laboratory
Bristol Genetics Laboratory (BGL) offers a comprehensive service for cytogenetic testing of oncology samples; primarily for haematological malignancy but also for a range of solid tumour and other referrals.
What is Cytogenetics?
Cytogenetics is the study of the structure and function of chromosomes. We analyse chromosomes by G-banded metaphase karyotyping, comparing the unique banding pattern of each chromosome pair. Changes in the number or structure of chromosomes can lead to serious problems, such as cancer. A normal cytogenetic result does not exclude the presence of an undetected or cryptic disease related clone.
Chromosome analysis is frequently supplemented by:
FISH (Fluorescence in situ Hybridisation) 
Molecular pathology investigations
When do we analyse chromosomes?
Diagnosis
for new patients
classification of the disease 
Prognosis 
diseases where specific disease related chromosome rearrangements are known 
for risk stratification
Monitoring
follow-up studies for cases of relapse
where previous cytogenetic abnormalities have been documented
transplant and treatment success
Patients in clinical trials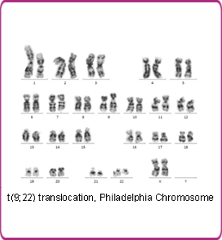 Last updated: 12th December 2016