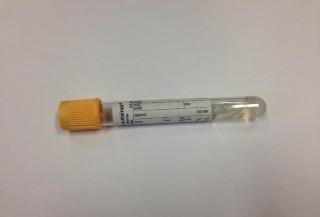 Sample type: Serum
Test name: Ceftazidime
Condition / Indication: Requesters have found these assays to be of value in children and adults treated with continuous infusion and/or with severe sepsis and/or with pathogens of reduced susceptibility to Ceftazidime.
Advance warning: Please telephone at least one day in advance of the sample. Please note this is a non UKAS accredited assay. Our core working hours for this assay are (Mon – Fri 09:00 – 17:15). Please contact laboratory to discuss the possibility of this assay being performed on Saturdays, Sundays and Bank Holidays.
Special precautions & notes: Samples should NOT be sent by post since the drug is liable to degradation. Send courier, frozen or on ice.
Sample required: Approx. 1-2mL of separated serum (the minimum acceptable is 100µL). Samples must be sealed and packed to conform to current regulations. Leaking samples may not be processed.
Timing of samples: We recommend a pre dose sample and a post dose sample, taken 1 hour after the end of iv administration.
Test information required: • Patient name, sex and age
• Laboratory number
• Dosage, frequency and timing of samples
• Clinical Summary
• Other medications (essential)
• Address for report
• Phone (fax if preferred) number for report or email address for an electronic copy
• Contact name
• Appropriate hazard warnings

Results: Results will be telephoned/faxed or emailed on the day of receipt for samples received between 9 am and 3 pm Monday to Friday. A written confirmation report will be sent by post.
Reference range: Interpretations of concentrations are patient specific.
Container: Serum (Gold top)
Referred outside NBT for analysis? No
Discipline: Antimicrobial Reference Laboratory
Turnaround time: <3 days
Re-assay interval: Depending on concentrations and patient progression.