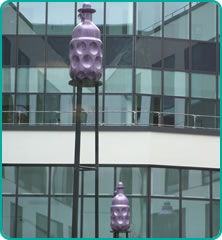 This project delivered a series of sculptures across the three courtyards.
This commissions aims:
Create impact and animate the courtyards by creating views and focal points 
Connect the inside to the outside
Connect the three courtyards yet contribute to the unique identity of each
Work from numerous perspectives and sight lines across Brunel building wards and be viewable both horizontally and vertically
Help avoid institutional blandness and create a sense of place
Remain visible within any planting scheme 
Titled 'Mon Cirque', the artist Jaime Hayon designed a series of sculpture groupings for each of the three courtyards. Three different sculptural forms made of glass reinforced plastic (GRP) and mounted on galvanized ladder-like plinths and combined in groups of five sculptures for each courtyard. The sculptures range from approximately 4m to 7.5m in height. Each group of five sculptures is finished in a different colour to distinguish the different courtyards from each other.  
The sculptures fuse vase-like forms with figurative qualities to create characters. They are visible from numerous points throughout the Brunel building. The sculptures draw the viewer's eye from many different angles and encourage connections between the outside and the inside. The sculptures have been designed so that they animate these enclosed spaces, emerge from and disappear into the foliage creating an element of surprise and visual engagement which brings these non-accessible spaces to life.
Jaime's vision for these sculptures is that they should be fun, functional, iconic, unique and unexpected.
These three courtyards are not accessible but are designed for viewing only. The first courtyard has six levels of accommodation around it and is viewed from the Level 1 concourse, consulting rooms and from the ward bedrooms above. The second courtyard is also visible from the Level 1 concourse, consulting rooms and ward bedrooms above. It is surrounded by five levels of accommodation. The final courtyard is viewed from Level 0 AAU bedrooms and by three levels of accommodation.
About the Artist – Jamie Hayon
Spanish artist-designer Jaime Hayón was born in Madrid in 1974. After studying industrial design in Madrid and Paris he joined Fabrica in 1997, the Benetton-funded design and communication academy. He soon became head of their Design Department where he oversaw projects ranging from shop, restaurant and exhibition conception and design to graphics. Eight years later, Jaime set up his own studio, first creating designer toys, ceramics and furniture, then interior design and installation.  His work blurs the lines between art, decoration and design with finely-crafted, intricate objects which sit within the context of contemporary design culture. His work has appeared in the most prestigious art and design publications worldwide. He has won numerous awards including 'Best Installation' (Icon Magazine), 'Breakthrough Creator' (Wallpaper Magazine) and the 2006 Elle Deco International Award. In 2008, Jaime was guest of honour at Belgium's Interieur Biennial, the youngest person ever to receive the accolade.