PARENTS Study
PARENTS Study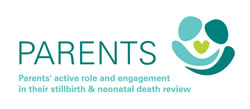 In the UK, more than 5,000 babies a year die before or shortly after birth. This can result in a wide range of negative psychological symptoms for parents, families and staff.
Parents are rarely involved in the hospital perinatal death review process that takes place after the death of a baby and many are largely unaware that it takes place. However, involving parents in this process can help them deal with grief more effectively. It also has the potential to improve care and highlight good practice
This project will actively involve parents in the perinatal death review process at two hospitals (NBT's Southmead and Central Manchester University Hospitals NHS Foundation Trust). Involving parents in such a sensitive area is a genuinely novel, yet urgently needed and recommended approach. The lessons learnt will be used to finalise an improved, innovative review process that if demonstrated to be beneficial will inform national and international policy and be rolled out to the wider NHS.
The impact on patient care will be assessed using questionnaires and focus group discussions. The views and experiences of staff and stakeholders will also be considered to enable the development of a standardised process that is sustainable, useful and has a positive impact on patient care and improve longer term outcomes following their bereavement.
The project is led by our Clinical Lecturer, Christy Burden, is hosted by North Bristol NHS Trust and funded by the Health Foundation. For more information email PARENTS.Study@nbt.nhs.uk
Results of this research to date:
The review has become more standardised with parent input.
Staff have feedback how they feel parental involvement is crucial.
We are helping to promote transparency and an open culture within the NHS.
Our future aims off the back of this study
We want to target the study information at parents but also MPs and commissioners to invest in e.g. a dedicated bereavement midwife to coordinate these meetings better in every NHS Trust.
We aim to have the option for parental involvement mandated in every hospital.
The following attachments can be viewed or downloaded:
Our work is also informing the new Department of Health national bereavement care pathway and the National Perinatal Epidemiology Unit's Perinatal Mortality Review Tool. The forms to obtain parental feedback can be downloaded below.

A summary of the PARENTS Study findings and core recommendations for high quality parental engagement in the Perinatal Mortality Review process.

The PARENTS Study team have also summarised their findings and the resources required for this parental engagement in a Policy Briefing document, aimed at MPs and commissioners.
Further information can be found in the British Medical Journal using the following link: http://bmjopen.bmj.com/content/8/1/e020164.full?ijkey=F60KnK8ZzFpzmqI&keytype=ref&_ga=2.12496375.232011227.1520329682-681923148.1453715166