The South West genomic Laboratory Hub is committed to providing a service of the highest quality.
Information on accreditation, quality assurance including turn around times,  user feedback and complaints procedures can be accessed below
Accreditation
Bristol Genetics Laboratory (BGL) and Exeter Genetics Laboratory (EGL) are UKAS accredited medical laboratories numbers 9307 and 8092. UKAS assesses against the International Standard for medical laboratories, BS EN ISO15189:2012. Further information on accreditation is available via the UKAS website.
Details of activities that are currently provided under the scope of accreditation can be found at:
EGL Schedule of Accreditation - link to follow
In certain circumstances laboratory tests will be performed outside the scope of accreditation. This may arise when new services are introduced, for which UKAS accreditation is yet to be awarded. Application for extension to the laboratory scope will be submitted, however, whilst accreditation is pending the test continues to be performed to the same rigorous internal quality control standards and protocols as accredited tests. It should be noted that elements of the Whole Genome Sequencing service are undertaken by an external provider and are, therefore, provided outside the laboratory's UKAS scope of accreditation.Methods that are currently pending accreditation are as follows:
External Quality Assessment
The SWGLH participates in a comprehensive range EQA schemes provided by the following:
Where a formal EQA scheme is not available, arrangements for an informal sample swap testing scheme are made with another accredited laboratory.
Turnaround Times
The SWGLH is working towards 90% compliance with national reporting time guidelines stated in the table below: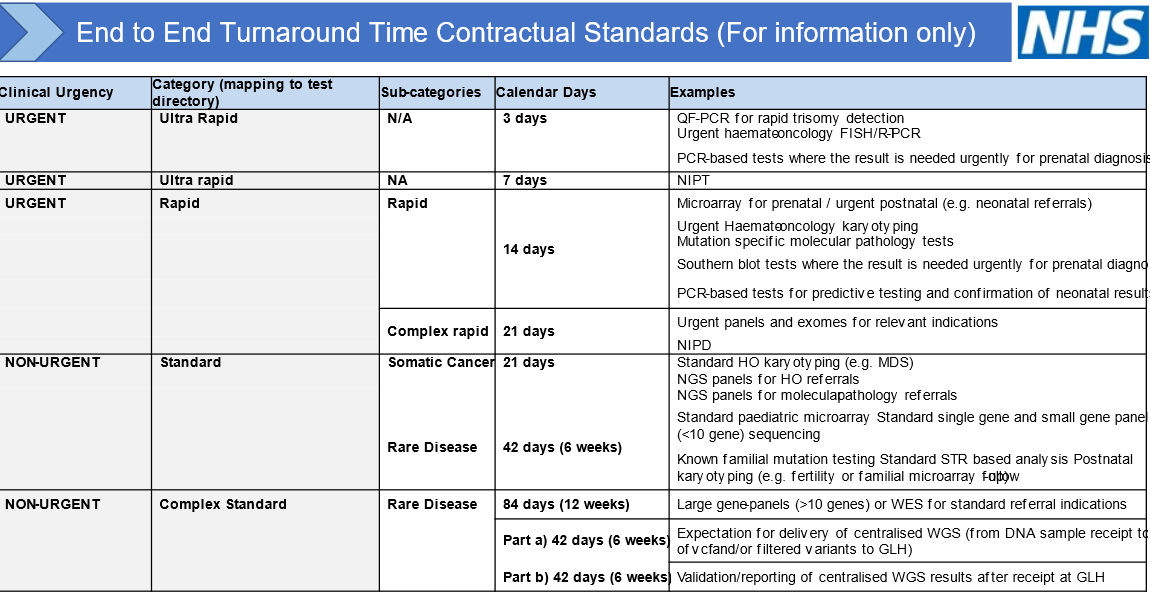 User Feedback
As the SWGLH , we strive to fulfil the requirements of all our service users and conduct regular user surveys. We are always happy to receive comments and feedback from our service users, please use the contact details below . This drives continual improvement and ensures that our service meets the needs of both referrers and patients.
If you would like to provide feedback please email us mailto: nbn-tr.geneticsenquiries@nhs.net
Complaints
We would like to assure our service users that complaints are taken very seriously and are fully investigated. The SWGLH laboratories respond to complaints in line with their respective Trust complaints policies and procedures. Further information can be found via the links below:
This page was last updated 13/04/2022
Whole Genome Sequence request need advice?