Welcome
Welcome to our first Patient Experience Team Newsletter!
Emily Ayling, Head of Patient Experience
This quarterly newsletter will keep you up to date on all the exciting work happening across Patient Experience. Our Patient and Carer Partners will share updates and we will shine a light on our amazing colleagues and volunteers.
We will also share progress on our new and exciting Patient and Carer Experience Strategy. This strategy sets out our commitments for the next 3 years and where we will be focusing our attention.
Hear from Steve Hams, Chief Nursing Officer and Patient Partner John McLellan in this Patient and Carer Experience Strategy video, as they talk about our commitments in more detail and what you can expect to see over the next year.
Grab a cuppa and enjoy reading this autumn edition!
Photo below from left to right: Troy Crompton, Bwalya Treasure, Mark Read and Emily Ayling.

Patient Feedback & Engagement
Troy Crompton, Patient Experience Manager
A summer of events
The Patient Experience Team had the pleasure of speaking with different staff and public groups this summer. At the Staff Expo we celebrated the positive comments staff receive through the Friends and Family Test. 
At Bristol Pride we loved speaking with everyone and learning about how we can better support our LGBTQIA+ patients in the future. If this is something you are interested in, get in touch!
Our focus has now turned to celebrating the 20-year anniversary of our amazing Patient and Carer Partners in October. Keep an eye out and help us celebrate our partners over the coming weeks!
Friends and Family Test feedback:
"All of the staff were so knowledgeable, kind, and helpful. We felt very looked after and I felt the health of my baby and myself was looked after very thoroughly."

"Faultless service from all staff today, caring and informative. Quick and efficient and reassuring."

"From walking through the hospital entrance, the staff from the ground floor greeting and directing people through to the consultant was so helpful and welcoming"
Patient and Carer Partners
Amanda Threlfall
Our last quarterly involvement as patient and carer partners has as always been busy, and engaging. Activities the team have been involved in include attendance at the Dementia Strategy Group, Carers Strategy Group, Patient and Carer Experience Group and Committee, Learning Disability Groups and various Governance Groups.
The complaints lay review panel also met and as normal reviewed three cases. Some members have been involved in the funding application for the new Elective Care Centre.
The Patient Experience Team are a really loving and caring team, and even have their very own NBT Hero, Krys. Next month we have the opportunity to attend the 20 year celebration event, and we will also recognise the input of those unable to attend in person.
As a team of volunteers we love working with the trust, and feel honoured to be able to be part of the team. As I always said to my late husband, teamwork makes the dreamwork.
Spiritual, Pastoral and Religious Care
Mark Read, Chaplaincy Team Leader
Chaplaincy goes live on CareFlow
In September, the chaplaincy team will start using CareFlow narrative to record our care of patients. This will enable us to; record what support we have provided to patients, produce a daily report of all the patients we are seeing, and produce statistics relating to our activity levels more easily and accurately. It will also enable staff to see what SPaRC interventions have taken place which we hope will improve holistic care and a better patient experience. This is a major advance for integrating SPaRC support alongside other aspects of patient care.
Just Ask Campaign
In September and throughout the autumn, our chaplaincy will be actively supporting the Big Idea – Just Ask campaign which is being run by a team in Palliative Care. Just Ask is designed to encourage staff to ask patients or their family and carers about the person's SPaRC needs especially for patients approaching the end of life. Through information stands, workshops and training the campaign aims to reduce fears and address concerns staff have about assessing people's spiritual needs. It will encourage staff to "just ask".
Volunteer Services
Bwalya Treasure, Voluntary Services Manager
Spotlight on League of Friends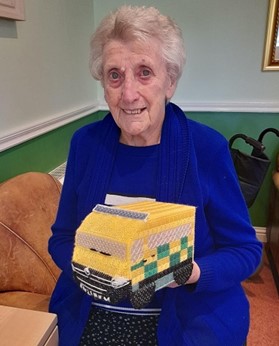 A huge thank you to our League of Friends at Southmead and Cossham. Through their coffee shops and other fundraising they continue to raise money to help purchase much needed equipment for patients in the Trust. Examples of that they've funded includes, patient wheelchairs, carers chairs and a music therapy TV channel.
At our Cossham site we are celebrating Eileen Savage who has served an incredible 30 years working tirelessly with the LoF. Thank you to our amazing League of Friends.