In writing 
North Bristol NHS Trust
Trust Headquarters
Southmead Hospital
Southmead Road
Westbury-on-Trym
Bristol
BS10 5NB
For general enquiries telephone switchboard on 0117 9505050
View a full list of Southmead Hospital telephone numbers. 
Cossham Hospital
Lodge Road
Kingswood
Bristol
BS15 1LF
Telephone: 0117 3408400
View a full list of Cossham Hospital telephone numbers. 
Bristol Centre for Enablement
Highwood Pavillions
Jupiter Road
Patchway
Bristol
BS34 5BW
Telephone: 0300 3000110
Frenchay
Frenchay Park Road
Frenchay
Bristol
BS16 1LE
For employment queries or current vacancies see our careers section. 
For advice, compliments and complaints email complaints@nbt.nhs.uk
For errors or omissions on this website please email nbtcommunications@nbt.nhs.uk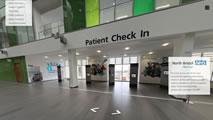 Take a virtual tour of the inside the Atrium of the Brunel.