Careers
Do something extraordinary everyday
Joining our team at North Bristol Trust could be one of the best decisions you make. With a wide range of roles to suit different backgrounds and interests, working with us gives you the chance to make a difference every single day.
What is North Bristol NHS Trust?
North Bristol NHS Trust is one of the largest healthcare trusts in the South West of England. We provide hospital and community healthcare to people living in Bristol, North Somerset and South Gloucestershire. We do this across a range of settings, including within our award-winning Brunel building, designed and built for a better patient and staff experience.
What does North Bristol NHS Trust do?
We care for people with a wide range of health conditions through a range of services. These range from routine check-ups to specialist neurosurgery, orthopaedics, plastics and burns.
We deliver more than 6,000 beautiful babies a year in our maternity units, birth centres and at home.
Our hard-working Emergency Department is a regional trauma centre. Here, we care for people with wide range of illnesses and injuries. For example, strokes and broken arms through to people who have been in a serious car crash.

We don't just treat patients. We support the future of healthcare with world-leading research and by training the clinicians of the future.
Find tips on applying for roles at North Bristol NHS Trust by visiting our Applying for a role page!
Follow @NBTCareers on social media for news on vacancies, upcoming events and more!
The team: where could you fit in?

Bristol benefits text
North Bristol NHS Trust is based in the Northern outskirts of Bristol. We're proud to be part of this vibrant, busy city and its wealth of opportunities. As the 8th largest city in the UK, it is excitingly diverse and has a wide choice of shops, bars and restaurants as well as an impressive cultural scene and a number of restful green spaces and parks.
As well as a thriving city centre, Bristol is surrounded by beautiful countryside. It is a fantastic place to live if you love being in nature. We are temptingly near to the Cotswolds and Mendips, and within easy reach of the coast.
Although Bristol has everything you could ever need, it is impressively connected. Jet off on holiday from Bristol airport, head into London in little more than an hour (68 minutes to be exact) or enjoy a few nights away in the South West or Wales – both of which are enviously close to Bristol.
Planetarium, #WeTheCurious
Bristol Cathedral
Balloon Festival over Clifton Suspension Bridge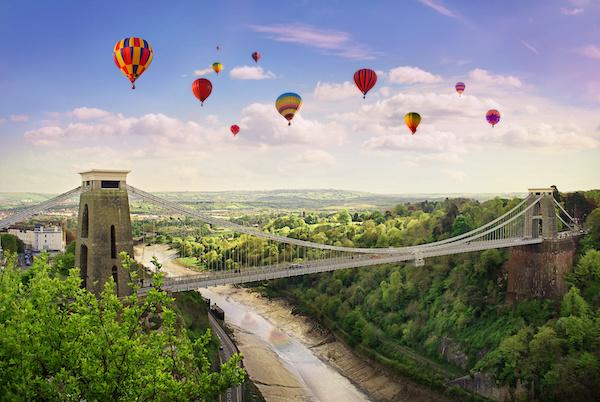 Bristol's famous colourful terraces
NBT Cares